I like Google Chrome as a browser but all the pop-up ads are driving me crazy. I'm used to the blocking capabilities built in to Firefox and just can't find them. I think I just need to install an extension to do this and am wondering if you have a recommendation for a Google Chrome extension that can block advertisement pop-ups, and if so, how to install it?
Your timing is impeccable. I just received a request to review a free Google Chrome extension called AdBlock Plus because, as you have noted, Chrome doesn't block pop-up windows anywhere as effectively as Firefox does. In fact, Firefox might be the best of breed for that particular built-in capability, but we're talking about Chrome, so let's focus…
Modern Web browsers are incredibly sophisticated software applications with a ton of capabilities. Indeed, some of them (read "Google Chrome") can serve as your entire operating system, as demonstrate with the Google Chromebook laptops. This means that there are a lot of ways you can get plug-ins, extensions and other utilities to expand or extend the capabilities of the application.
Getting and installing an extension can't be easier, though. Just go to the page that hosts the extension and the necessary dialog box appears like magic. For AdBlock Plus, go here: http://chrome-plugins.org/extensions/chrome-adblock-plus/.
Halfway down the screen is a big green button "Install Adblock Plus Now!" Click on it and you'll see a warning show up on the lower left corner of your browser:



It's okay to download and install it, so click on "Continue". Then Chrome will confirm you want to install it: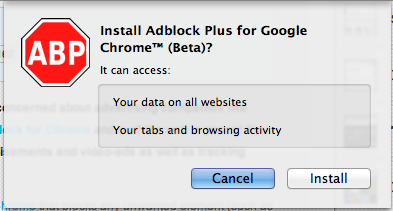 Click on "Install" and all the magic will happen behind the scenes. Next you'll see is a notification that AdBlock Plus has successfully been installed in the browser:


To configure it (or even just see what it can do), choose "Extensions" from the Window menu:


You might see a lot of extensions, you might just see one or two. I see quite a few, personally, but here's the one we're interested in:



Click on "Options" to see what it can do, then click on "General" for the standard config choices: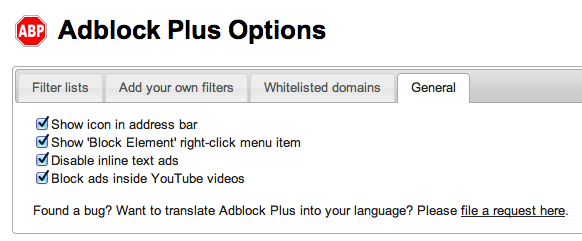 Now, the question is: does AdBlock Plus actually work within the Google Chrome world? The sad answer is kinda yes, kinda no. I went to the
Boulder Daily Camera
to test the ad blocker as the Camera has an annoying pop-under ad network that brings up innumerable ads for Netflix.
I clicked on an article and… the ad popped up just as it usually would: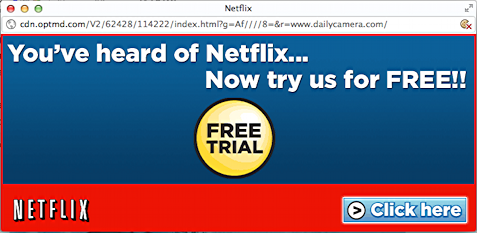 Okay, maybe it's using an ad network system that the extension doesn't know. Back to Window –> Extensions –> Options and I entered the base domain name of the ad network (http://cdn.optmd.com/) into the custom filter area, both with and without a trailing asterisk, and…



With that in place, the window still pops up, but there's no actual advertisement in the window. So it didn't block the popup, but it did block the ad. Useful? Sorta.
With some additional tweaking, I suppose I could figure out a way to have this work better, but I'll leave it as an exercise to you, the reader. Got a tip for me to make AdBlock Plus work better? Tell me about it in the comments!
Disclosure: I received a small payment to include AdBlock Plus in this article. I wasn't, however, swayed, because my question is always whether it works.