I want to add photos to my blog, and a buddy told me that I can use images from the Yahoo Flickr site. I don't want to get in trouble, though, so can you tell me if there's some way to identify those photographs and other images that are legal for me to republish?
One of the few really savvy moves that Yahoo made in the last few years (in my opinion, at least) was the acquisition of Flickr and the fact that it's a repository of publicly reusable Web sites is just another cool thing.
Now, to be clear, "public domain" is inaccurate. What Flickr has instead is the Creative Commons License, and some photographers have identified their images as acceptable to republish, and others have gone further and said that it's okay to republish them even on a commercial site or withing a commercial context.
It's pretty darn important to toe that legal line too, actually. You can just pop over to Google Images and rummage around with a half-dozen savvy searches to copy images without permission, but it's much smarter — and more on the right side of copyright law — to identify legally usable images so you don't get into trouble down the road…
And so, let's pop over to Flickr and check out their advanced search window. To get there, click on "Search", then click on "Advanced Search" just adjacent to the Search button:



Click on "Advanced Search", as I said, and you'll now see this: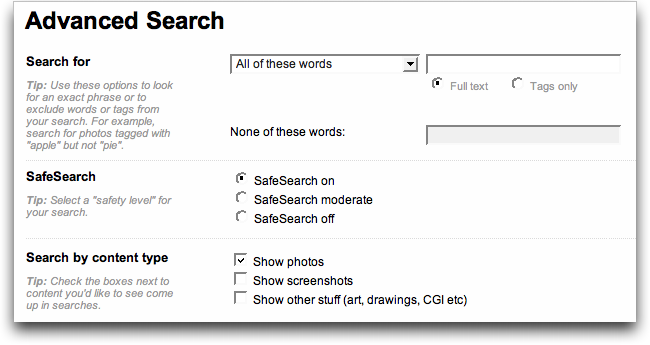 That's not what you want, though, other than to type in a keyword or two in the main search box. What you want to do is scroll to the bottom of this page, where it has the "Creative Commons" fields:



That's what we want: check both "Only search within Creative Commons-licensed photos" and (this is the key!) "Find content to use commercially".
For example, a search for Creative Commons licensed, commercially usable photos on Flickr that have the keyword "ipod" produces over 9,900 images that can be legally, safely and easily added to your Web site. For example, here are two I saw there that I particularly liked:

| | |
| --- | --- |
| | |
| Image by cdharrison | Image by re-ality |

As you can see, Flickr is an extraordinary, massive repository of images and photos that you can indeed use on your blog, even if it's commercial in nature, without paying a dime in license fees.