I am a big fan of both your blog and problogger, and both of you seem to be fans of the Chitika ad network, in addition to various other ways that you make money. Darren says that it's a big revenue stream for him, and you've written that minor tweaks in how you have things set up on your blog have resulted in some major bucks coming your way too. I'm in! But, how do I get started?
Ah, grasshopper, the journey of a thousand steps starts with the first step. Or does it start with filling your water bottle? Or tying your shoes? 🙂
Anyway, yeah, Darren Rowse (problogger) and I are both fans of Chitika, though because we deploy it differently on our sites, we have different results. In both cases, though, it proves a very nice supplement or alternative to Google AdSense and, as you say, I recently made a few little tweaks to how I was including Chitika ad units on this site and suddenly saw my revenue jump 20x. No complaints here about that! (you can read about it here: Are ad placement and size a factor in pay-per-click ad network revenue?)
First things first, here, though: sign up for the Chitika Ad Network.
Done?
Good. Now let me take you on a tour of their back-end so you can see how to create the ad units you want and get their simple code that you can cut and paste into your blog templates, favorite Web pages, or similar, and start making some money frmo your traffic!
If you haven't yet logged in, please do so:

yeah, pretty typical login window. If you're on your own computer and don't have to worry about others sharing it, click on "Remember me" to make this process easier. Oh, and don't forget about tabs in your browser: it'll make it easier down the road, I promise.
Once you've logged in, you should see this: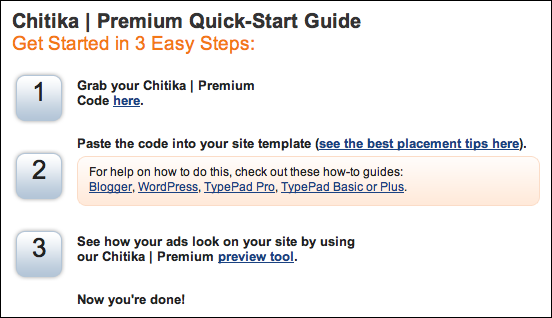 Click on the word "here" in the first sentence of the list or, if you prefer menu bars, click on "get code" in the menu bar on the logged-in page on the Chitika site.
There are lots of different choices, as you'll find if you click on the "See All Available Sizes" link or the sizes menu:
A general rule for all performance based advertising is that front-and-center is better than hidden or tucked in a corner, and that bigger ads do better than smaller ads. So for this example, we'll use the 550×250 "mega unit". Select that and you'll then see an example of it on the same page:
Looks good. Let's continue to the next step by clicking on the aptly named "Continue to Next Step" button…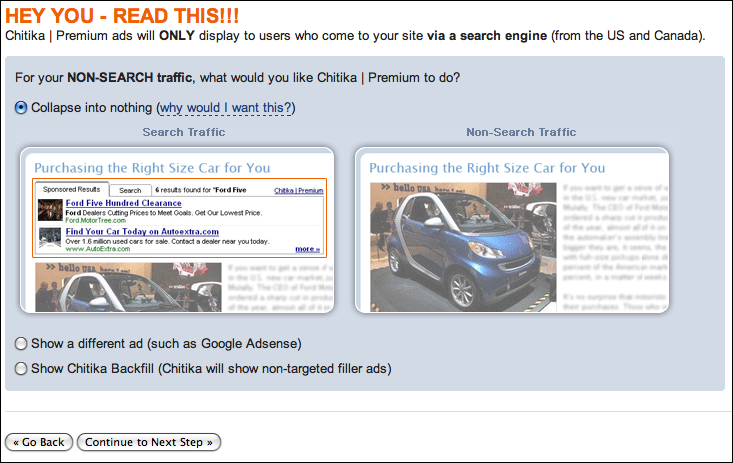 This is pretty important: as you can see, Chitika is designed to only show up for site visitors who visitors who get to the page via a search engine, which is pretty nice, actually. Those of you who are subscribers to the site or have typed in the URL or clicked on a link to get here don't see the Chitika ads at all.
The question here is: what should happen if the visitor is seeing your page and hasn't come from a search engine? You can choose "show nothing", "show Google AdSense" or "Chitika backfill", which is a fancy way of saying "untargeted ads that probably aren't going to do very well for you". My suggestion is that you use the default configuration of having the ad unit collapse into nothing if they're non-search visitors.
Regardless of which you choose, you then get to confirm that you understand the choice you just made: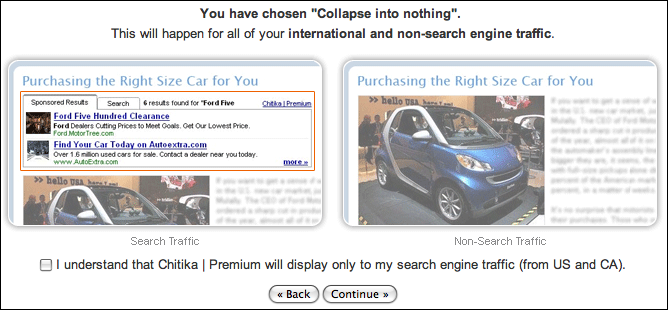 Are you ssssuuuuuurrrreeeee?
Okay, good. Check the box shown, then click on "Continue".
You can dabble with custom colors, typefaces, etc, at this point if you want, but I've just left things with the default settings on my site. I'd suggest that you test things, actually: try one configuration for a week or two, then tweak it and see if, for the same number of page views, you get more clicks and/or earn more money. Keep doing that, option by option, and you'll maximize your revenue in no time.
Finally, click on "Get Code" and you'll get a pretty big, complex page:
All you need to worry about here is the source code in the box. Don't copy mine, though: you want to use your own so that you get credit and make $$ for the clicks!
Here's what's puzzling about this, though: once you copy and paste this code into your template or onto your Web pages, you won't see the ads show up!
Why? Because
it only shows up if someone gets to the page from a search engine!
Ah, you probably forgot about that. 🙂
The good news is that Chitika has a simple way you can test things, by simply appending the sequence
#chitikatest=XX
where "XX" is a keyword associated with your content. On this page, for example, I might use "#chitikatest=make+money" to see what kind of advertisements show up.
In fact, you can try it for yourself and magically see the Chitika adverts show up on this page if you haven't gotten here from a Google search or equivalent: just append the "#chitikatest=make+money" sequence to the URL, above, and reload the page.
Slick, eh?
Once you've cut and pasted the code into your own blog template or Web page, all you need to do is rebuild all your pages and then test a page or two with this secret code. Looks good? Then you're done, it's time to relax and wait for the revenue to start pouring in.
Give yourself a week or two, then start testing, okay? You'll thank me later.
Now, have you taken that first step by
signing up for the Chitika Ad Network
yet?
---
Please note that the Chitika signup links in this article are affiliate links. This means that I'll make a tiny commission off your signup if you join the ad network, which helps us keep the lights on here at Ask Dave Taylor world headquarters. If you'd rather use a non-affiliate link, no worries, just go to http://www.chitika.com/ directly instead.