I have a couple of friends who are crazy about Instagram but when I downloaded it, I couldn't see how to use it and why they think it's so interesting. Can you take me through the steps needed to take and post a photo in Instagram, Dave, then perhaps offer some tips on how to get followers of my own?
For those of you who aren't caught up with the latest photo sharing app, Instagram is a mobile-only app that lets you both enjoy a constant stream of other people's photographs and share your own with people who follow you. More fun, there are a ton of filters that can take a mediocre photo and make it really cool and, often, pleasantly retro.
If you're already into Instagram, well, heck, follow me so I can follow you too. Just go to the "Explore" tab and search for me: d1taylor. Easy!
Download the appropriate version of Instagram for your mobile device directly from the Instagram home page.
Once you've started it up and are following a few people, you'll see something like this lovely pic from my friend Monica: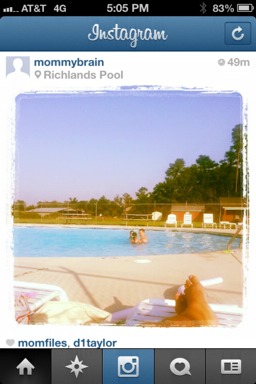 From left to right, the buttons along the bottom are "home" (or photo stream), "explore" (search for "d1taylor" to find me, for example), "camera" (take pic or select photo you've already taken on the phone), "news" (what's new with your account) and "you", a tab that lets you see your account stats, like photos posted, followers, how many people you're following, etc.
Tap on "camera", in the middle. It starts up the camera feature on your phone and shows what you'd take a picture of if you just tapped on the lower camera button: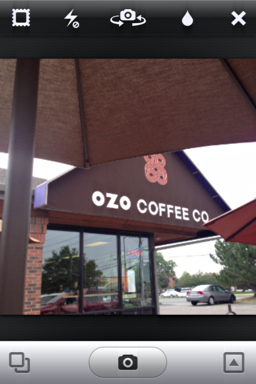 Again, along the top, left to right, "frame" to superimpose an edge or frame on the image, "flash" to turn the flash to on, off or automatic, "rotate" to change whether the front-facing or rear-facing camera is being used, "drop" to create a focus point for "tilt-shift" type manipulation, and "cancel" for, well, canceling the photo.
On the lower portion, the left button lets you pick a photo from your existing Photos collection, the central button actually takes the photograph and the right button reveals a strip of frames (tied in to the "frame" button on the top left).
I recommend you keep the frames hidden so you can focus on your composition. You can add them later, as you'll see.
Take the picture and the top strip changes just slightly, while the image itself is captured. More importantly, here's where you can have all the filters displayed along the bottom:
The top button that's replaced "flash"? That's "rotate". Along the bottom, left to right, are "contrast" to increase the contrast in the pic, "cancel", "accept" and the button to show or hide all the filter effects.
The above pic is with the filter "normal". If I try "Toaster" and let it add a frame edge, look how the picture changes:
One of my favorites is "Kelvin". Check it out:
Now I'll increase the contrast to make it even more striking:
Looks great! A tap on the green "accept" check mark icon and you're ready to specify a caption, geotag, etc:
Start by giving it an interesting or witty title. Here's what I used:
To geotag the photo so people searching by location can find it, tap on "location" and give it a second or two to check with the Instagram location database. After a moment or two, this list appears:
The photo I'm using as the demo is from Ozo Coffee, so I'll tap on that one.
Tip: If you'd prefer not to geolocate your photos, simply don't select a location. Easy enough.
Now it's back to the input fields and this time I'll also select Twitter and Facebook for cross-posting (having previously set them up in the settings area of the app).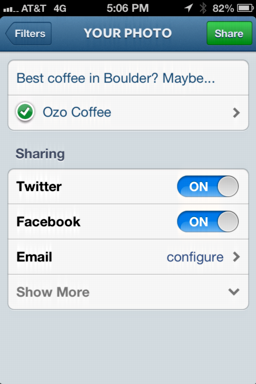 Ready to go, tap on "Share" on the top right and…
That's my own photo, tagged and captioned. Nice effect, isn't it?
One cool thing I'll add: Instagram saves a copy of the filtered, manipulated image in your photo album too. Here's how mine was saved:
And the Facebook posting? Looks like it comes out quite nicely too:
So that's how you add a photo. Want to get more followers? First off, follow me (just search for "d1taylor" to find me) and I'll follow you. Now just start posting cool pictures and make sure you cross-post them on Facebook, Twitter, and any other social media service you're involved with. Oh, and follow all your Facebook friends because they'll follow you too.
Got any other tips, dear readers? Leave them here as a comment!