Facebook's done it again, changing and messing with my privacy settings. Drives me so crazy I'm ready to bail on the service entirely. Dave, before I give up and lose access to the 170 friends I have, can you step me through the basics of the latest — Dec 2012 — version of the Facebook privacy settings?
Okay, you're not the first person to observe that Facebook constantly tweaks and fiddles with things, and there's nothing more susceptible to these changes than the privacy settings. At times I think it's nefarious and they're evil, deliberately making it so confusing that we have no idea what's public and what's private, but then at other times I recognize what an extraordinarily complex world the site's created and how hard it is for us to understand privacy and the ramifications of our privacy settings.
That's why… ready for this? … I actually think that the latest set of privacy changes that were introduced mid-December are the best yet.
Yes, an improvement.
Why? Well, let's have a look so you can see how easy they've made it.
First off, you can now find the privacy settings along the top of every single page, on the top right: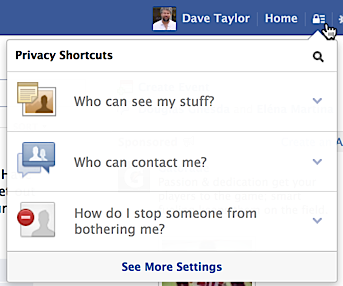 As you can see, they've respun it as a set of questions related to specific areas of privacy. The first is about visibility of what you post, the second about who can communicate with you and the third makes it easy and straightforward to block jerks, stalkers, ex's and anyone else you'd rather not interact with on Facebook.
Let's have a closer look at each.
First off, click on "Who can see my stuff?" and here's what options you see: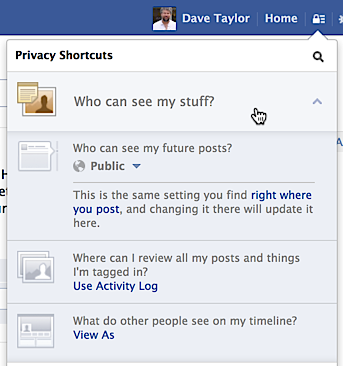 If you chance a setting here, it'll change all your future defaults. It won't, however, go back and retroactively change the privacy settings of older content. Something to be aware of!
Notice the last option — "What do other people see on my timeline?" — we'll come back to that.
Click on "Who can contact me?" and here are your settings:
To give you an idea of how complex this all is, I don't even remember changing my settings to only allow friends of friends to send me friend requests, so this really does make it easier to see what settings you have!
The third primary option is the anti-stalker filter:
Yeah, it's an unpleasant fact of life online — especially for women — that there are creeps online who are going to respond stupidly to every post you make, send you weird messages, want to chat every time you're online, etc etc. Easily blocked: just enter their name.
Note: they will not get a notification that you've blocked them.
Now let's just quickly jump back to the option of "What do other people see on my timeline?" and click on it.
The entire screen changes to show your own timeline, with a handy reminder tip:
Click "Okay" to get past that and you'll see that you can either see the "public" view of your timeline or the view of a specific person:

To see what a specific other person on Facebook would be able to view on your timeline, click on "View as Specific Person" and it'll let you enter their name:
Now Facebook lets me view my Timeline exactly as my friend Janice Cantano Kay sees it:
Between those different settings, I hope you'll agree with me that it is actually easier to work with the Facebook privacy settings for these basic areas of privacy. You can, of course, drill down further to more specific privacy settings, but I'm guessing that for most people, this is more than enough to get a handle on things!