It's impossible not to have heard about the many different social networks online nowadays. Seems like a new one pops up every week and indeed the single most popular site on the Internet is a social network (MySpace). I know because I am part of at least a dozen different social networks, ranging from focused professional venues to chaotic amalgamations of various ideas without any rhyme or reason. You can figure out which is which. 🙂
One of my favorites has always remained LinkedIn and since I just this morning needed to track down one of the executives at web hosting company Dreamhost, I thought it would be useful to demonstrate exactly how I used LinkedIn for this task.
As with all social networks, LinkedIn works best if you make a long-term commitment to being involved with its community, creating a full profile, inviting your own colleagues to connect with you through their connectivity tools, and accepting invitations from others who you encounter through various professional venues or that are part of your professional history.
My LinkedIn account shows that I have 482 links to other professionals in the network (you can see my public profile if you're not a member, but to see my full profile you'll need to already be a part of the LinkedIn community). To be fair, 482 is a lot of connections in the LinkedIn world: most people seem to have closer to 50 based on my observations.
Once I've logged in to my LinkedIn account, there's a convenient search box right on the top of the home page:

They have a far more sophisticated search system, but I'll just type in
Dreamhost
here and see what comes up…
The results are that there are 10 matches in the subset of the LinkedIn world I can see. (I can only search through my connections, their connections (that's 2 levels) and their connections (3 levels). I can't see beyond those three levels, so it's best to visualize lots of webs in LinkedIn, some of which you can see, others of which are just a few hops too far away for you to access easily):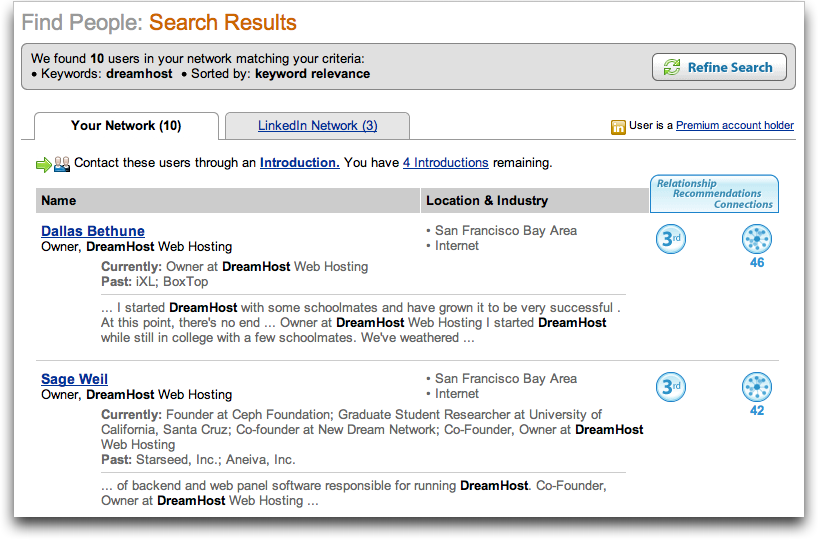 The top two matches are two of the owners of Dreamhost, Dallas Bethune and Sage Weil. Scrolling down a bit reveals that owner Michael Rodriguez also matches my search, along with Dreamhost system administrator Jeremy Kitchen. That's pretty easy, isn't it?
To contact Dallas directly, I can use the LinkedIn infrastructure: clicking on his name reveals more information about him, along with a graphical representation of how we're connected:
Since there are people between us, any query I make to Dallas will have to be forwarded along by others so I'll go through the first-level list of connections and identify the one that seems my best choice for this particular connection. That's only relevant if I ask for an introduction: the alternative way I can communicate with Dallas is through what LinkedIn calls "inMail". I prefer getting an introduction, though, because then I can hopefully pick up an endorsement or testimonial along the way, which will improve the odds of Dallas responding to my message in the first place.
To request a forward, I click on the link "Get introduced through a connection", which now lets me pick which of the eight possible paths I can take to Dallas is going to work best for me:
I'll pick Jordan Gold because I can also check in with him and say Hi, since we haven't actually talked for a few months. Clicking on "Continue" now lets me compose two messages, one for Dallas, and one for Jordan, requesting that he forward along my request for an introduction:
Once I've composed both messages and indicated how I would like to have Dallas contact me when he does receive the introduction, I'm ready to send it along. A simple click on "Send" and it's out into the ether, with a message sent automatically to Jordan requesting he log in, read my request, and hopefully forward it along.
Really, quite straightforward and easily done.
The key to success is really to
write a good message
, of course, which while it seems obvious, is something that surprisingly many people who communicate with me through LinkedIn seem to miss. The infrastructure of LinkedIn makes it possible for me to find and communicate with someone, but if the message itself isn't interesting and compelling they're never going to respond, making the whole exercise a waste of time. My advice is that you can't spend too much time composing a clear, succinct and detailed message of introduction in a social network like LinkedIn, so make sure you do so, every time. It'll great increase the chance of you having a positive result.
And as for me? Now I just have to wait and hope Dallas will email me or give me a quick buzz on the phone so we can talk…