I've just started really getting into Facebook and want to grow my circle of online friends there. From talking with other people, it's definitely a site that's more fun with lots of friends. But how do I find them short of spamming everyone I know with an invitation?
One of the great things about the rise of online social network sites like Facebook is that there are capabilities these sites are giving us that we'd never be able to do in real life. Chief among them is to analyze our friend circles. Think about it this way: if Facebook has a list of all your friends and all their friends, then it's straightforward to cross-compare and identify people who are friends with a lot of your friends but not yet friends with you.
That's exactly what Facebook Friend Finder does, and while I admit that the majority of the people it shows me are not people I know, every so often a friend or two pops up when I look, friends who surprise me that we aren't already connected.
Let me show you how it works, then you can try it and see if it helps you find some of your friends and acquaintances in the Facebook universe.
If you're already logged in to Facebook right now, I'm pretty sure you can get directly to the friend finder with this link. Did it work for you?
If not, no worries, on your Facebook home page look for the friend finder link on the lower right. It probably looks like this:


but sometimes it shows you 2-3 possible friends and has a small link to "Find more friends" or similar. Either of those should lead you to the Facebook friend finder application: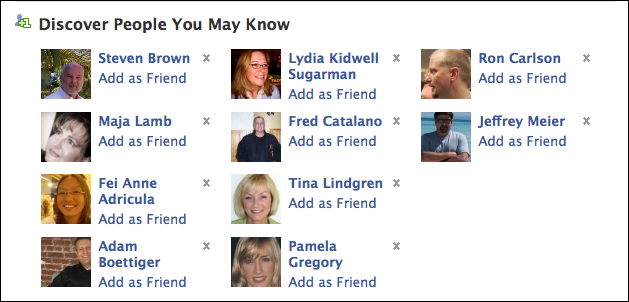 I scanned through this list and saw my friend Adam Boettiger on the lower left, rather to my surprise as I thought we'd already connected here on Facebook!
To request a friend connection, I click on "Add as Friend", which produces a pop-up window: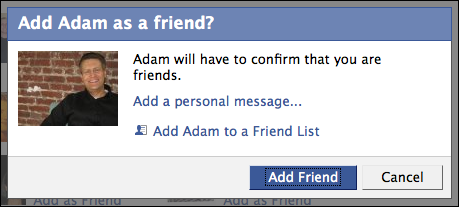 I believe strongly in adding a personalized message and will tell you that if you want to friend me on Facebook, I rarely accept friend requests without some brief explanation of how we know each other or why you think we should be friends (unless you're a friend already, but even then, it's very much a best practice). You can add one, even just 4-5 words, by clicking on "Add a personal message…"
You can see here that I added a quick, friendly message to Adam, nothing that's too onerous but enough that he'll recall our connection (though I suspect he remembers our friendship anyway).
Finally, click on "Add Friend" and you get: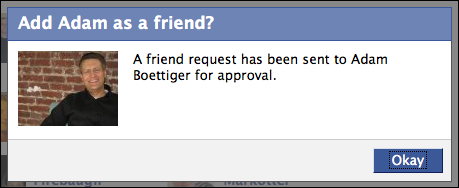 That's it. The friend request has been sent to the other party (Adam, in this case) and hopefully they'll approve it and you'll have added another friend to your Facebook circle.
Important Best Practice Suggestion
: Some people seem to use friend finder to try and link to everyone that it suggests. I infer this because I get friend requests from people I don't know who omit any personalized message. As I said earlier, I do not link to them and if you're going to use friend finder, I also encourage you to limit your friend requests to either people who have something significant in common with you (alma mater, for example) or are actually your friends or acquaintances. Otherwise it's just spamming and is uncool. And remember, to always, always add a personalized message to explain to the other party how you know them and/or why you think it'd be a good idea to connect.
I'd also like to let you know that I have quite a bit of
Facebook help
here on the site and that I also have an
Ask Dave Taylor Facebook Fan Page
that I invite you to join.