I was reading your Tweets the other day on Twitter [ed note: I'm @DaveTaylor on Twitter if you'd like to follow me too] and you mentioned something about listening to a jazz channel on your Comcast cable. I have looked and looked and can't find any music channels at all. How are you getting to them?
Whatever product or service I have, I push, fiddle and mess around to figure out what it can do, so when I got Comcast cable here in Colorado, I didn't just figure out the half-dozen stations I most like to watch, I have actually spent a lot of time experimenting with it to see what all Comcast offers up.
For one thing, I'm sure that the vast majority of people see the "On Demand" button on their remote but have never actually pushed it and found that there's a ton of additional content you can watch, including at least a hundred free movies, many in HD. Check it out some time, I use it all the time, actually (because I also write movie reviews on my film blog).
Another feature that's worth exploring, though it's rather bizarre how hard it is to find, is the set of Music Choice digital music channels bundled with Comcast cable service. I haven't counted, but I'm guessing that there are at least forty different all-digital commercial free channels.
What's a "digital music channel"? I can hear you asking that already. It's a high quality audio channel that is audibly far superior to regular broadcast channels. With my Yamaha surround sound audio system, it's remarkable to hear how much the audio "opens up" when I flip to one of the digital channels. It's definitely CD quality to my ear!
Anyway, as I said, it's not easy to find these channels, but here's how I do it: Start out by pressing the "menu" button on your remote and you should see this pop up:



Choose the "Menu" option on the far left, as I have done above. Now you'll see this, the main navigational menu of the Comcast system: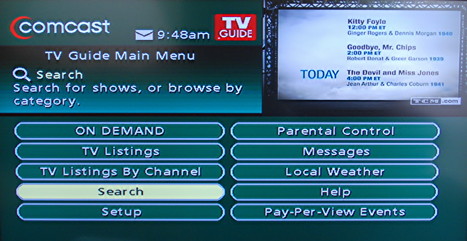 Don't ask why here, just choose "Search" and…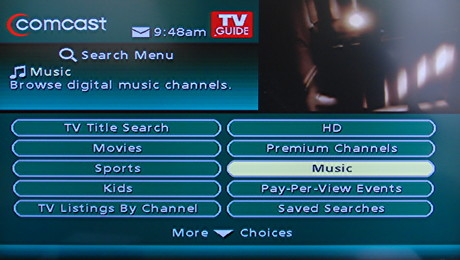 As you can see, not every option from the Search menu is actually a way to search the programming or channel llne up. In fact, choose "Music" and you'll be
browsing
, not
searching
the music channels: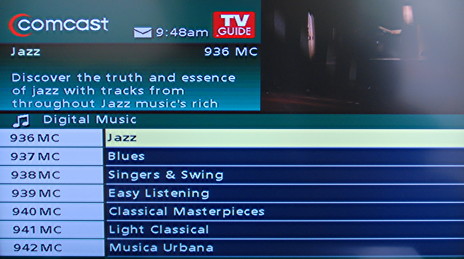 My favorite is the Jazz channel (which you can now see is channel 936), so I'll simply select that and the music starts up, while there's a fairly uninteresting slide show that displays on the TV that includes the song title, album (uh, CD) name, artist, and so on: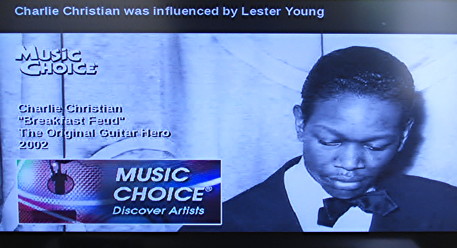 Truth be told, I turn off the TV when I'm listening to one of these Comcast digital music channels because I don't really care about what's displayed and it saves a bit on electricity if the TV isn't running.
Either way, there are lots of great channels of beautiful, crystal-clear music available and I encourage you to check it out!