A friend pointed out to me a few days ago that if I were to have a data hiccup or have my system crash that I could lose everything I've ever written – and what everyone else has added as comments – from my Wordpress blog. Definitely not good. Is there some easy way to back up my blog so that I can insulate myself from this danger?
Your friend is right and it's a testament to the reliability of modern hard drives and servers that we don't see more problems with weblogs suddenly vanishing into the digital haze from random acts of God.
Fortunately, there is a pretty easy way to produce a backup, or, at least, export all of your data from WordPress into a file that you can then use to restore (import) that data into your blog or a new weblog down the road. This is, of course, also how you would transition from one WP server to another or from one hosting company to another, if that was in the cards. Design changes shouldn't require this, but it's a good idea anyway!
Okay, so log in to the admin backend of WordPress and you'll see something like this:

This is the default view and from here click on "Manage" because, well, that's where we're heading…

You can see what we want on the right of this menu: "Export". Click on that and you'll get to learn a bit about the fine details of what you can pull out of an active WordPress blog: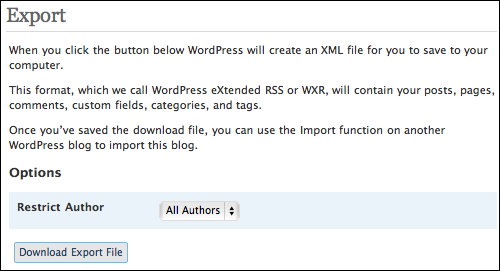 Okay, so it gets posts, pages, comments, custom fields, categories and tags. What's missing? The key thing missing here is any images, audio, movies, or other material you might have dropped into your Media Library.
Let's grab this export first, however. Click on "Download Export File" and…

That's all the key content. If you also want to get the Media Library, the best suggestion I have is to one-by-one view the images in the library and save them to a folder on your desktop. Clunky, but effective.