I watched the latest Apple announcements and was pretty impressed by the different things that Steve Jobs talked about, but the one that caught my attention was the iPhone Application Genius recommendation service. I'm a bit of an app-aholic, so I like to see what's new, but with tens of thousands in the iTunes app store, well, a recommendation service seems like a great idea. How do I use it?
Focused on iPods, the announcement from earlier this week didn't have a lot of Apple iPhone news, but there were some interesting new features that you got with the combination of the new iTunes 9.0 and the 3.1 firmware operating system update to the iPhone itself. If you don't have both, you might well not be able to access most of the cool new stuff on the phone and on your computer.
One that I like is the ability to organize which apps are on which screen of your iPhone now, from within iTunes itself, but what you're asking about is different, and probably more useful anyway: a Genius playlist sort of feature for iPhone applications.
To get to it, you have to use the iPhone: it's not a feature in iTunes as far as I can see.
On your phone, find and launch the App Store application. You'll see something like this:

Can you see what's new? Along the top there are now three tab options, not two. Tap on "Genius" and …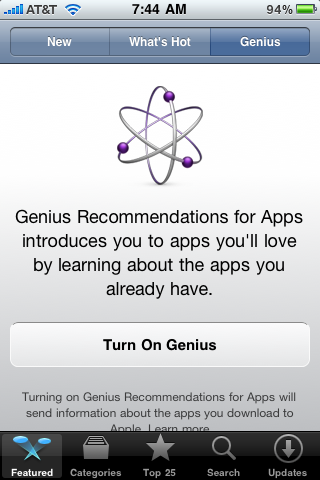 So that's the formal name: "Genius Recommendations for Apps". I'll call it the App Genius (though "genius" is probably a bit enthusiastic for the function it performs imo). To get started, tap on "Turn On Genius".
Since it wants to check your purchase history (presumably) it now asks for your iTunes account password:
Entered that properly? Good! Now it's legal disclaimer time: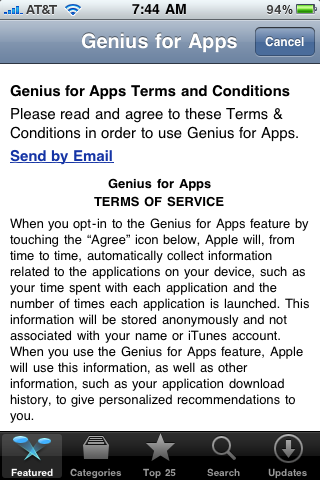 You sure?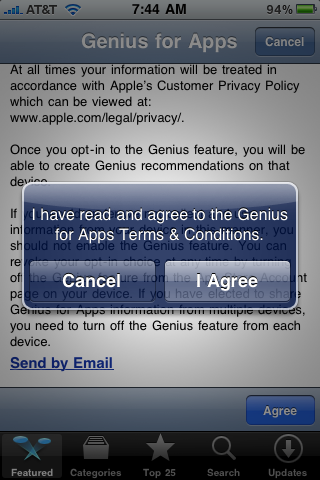 Great, now we can finally proceed: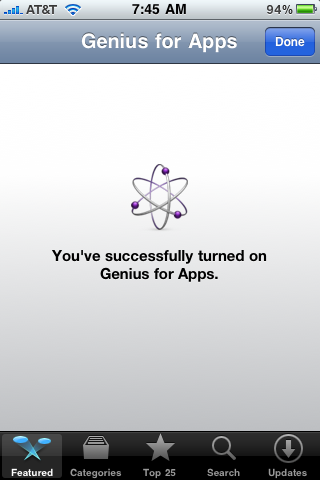 Here you can see that maybe it's called "Genius for Apps", not "Genius Recommendations for Apps". It's hard to keep track, isn't it? Ya need to be a genius or something. Oh, uh, nevermind.
Anyway, once you turn it on and tap the blue "Done" button on the top right, you'll find that the genius goes through the apps you have and offers up a "since you have X you will probably like Y" sort of recommendation: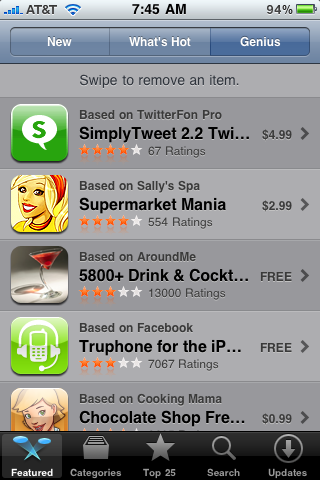 Honestly, nothing to write home about yet. What I'm waiting to see is the more sophisticated "since you have X, Y and Z, you'll doubtless like ____", but as with the regular iTunes Genius feature, that might take some refinement and large-scale data collection on Apple's part first.
First time to this site? Please check out the tons and tons of iPhone help we have here!