I've been finding it tedious to go to Flickr to upload photos and am wondering if there's any way I can just email the photos to Flickr and have them automatically show up in my Flickr stream?
You're in luck! The slick Flickr photo sharing and, um, social network service does indeed offer you the ability to upload photographs through a variety of different channels, including email and, if you're into it, widgets. Yes, whether you're into Google widgets, Apple's Dashboard widgets or even little lightweight Linux apps, there are some very slick solutions out there. Check out the Flickr upload tools page to see what I mean.
That same page gives you the link to find out how to upload by email or you can just click on this link if you've already logged in to Flickr or another Yahoo service.
Before I go further, it's important to recognize that the email address Flickr shows is your address, for your Flickr account. If I show you my custom address, for example, then you could start uploading pictures into my Flickr account, which could be amusing but more likely would be a bad and dangerous thing. Worst case, I'd then end up with porn or other junk and end up having to modify the account or shut it down. Not good!
As a result, I'll show you these screens so you can see how Flickr works, but I have tweaked the images so you don't start uploading material to my account. Okay? 🙂
So, on the upload by email page, here's what it shows:


You can see the address is a seemingly random string
@photos.flickr.com
. You can also automatically add one or more tags, so I suggest you tag the photographs uploaded through this channel as "viamail" or similar. If they're all from your cellphone — a whole 'nother great idea! — then maybe "cellpic" or similar could be good. Enter your desired tag and click "Save".
As
detailed in
the Flickr help area, the subject of your email message will become the title of the picture once posted and you can also add keyword tags too, either in the subject (preface them with "tags:") or body of the message.
To test this, I'll email a photograph of my new bookcase to the address indicated by Flickr, with the subject "My cool new built-in bookcase" and the body "Utilizing an otherwise useless space in my new home, this custom built-in bookcase is 9′ wide by 7′ tall and it's already almost full of books." with the final line "tags: "custom bookcase" furniture".
I took one shortcut: I made an alias called "flickr" in my email program (Microsoft Entourage) to make life easier. Here's how the message looked before I sent it:


and on Flickr, once received? Check this out: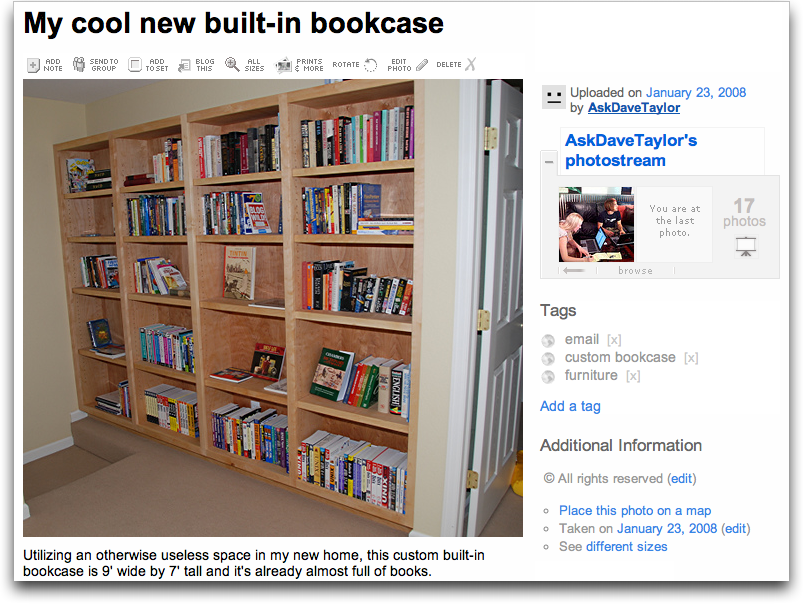 Worked perfectly. Very sweet!
Click here to see the pic displayed on Flickr directly
.
That should get you going, I hope. Good luck!