I'm always on the go and seem to constantly bump into interesting and weird situations. I'd love to be able to take those photos and share them with my friends on Facebook, but I don't know how to connect my phone with my Facebook account. Can you step me through this entire process, please?
Facebook recently introduced a new interface to the service and I believe that one of the things that's changed is this very capability. It used to be that it was pretty darn hard to figure out how to do this and involved a bunch of steps. Now as long as you remember the magic email address of mobile@facebook.com it's pretty darn easy to set things up.
If you promise not to try and hack my phone or Facebook account, I'll show you what I did to pair my Apple iPhone 3G with my Facebook profile so that I can easily email photographs up to my Facebook account and share 'em with my followers, just as you seek to do with your pictures.
There are different paths to the same end point, but I decided to start by emailing an interesting photograph to "mobile@facebook.com", to see what would happen.
I started out looking at a photo on my iPhone: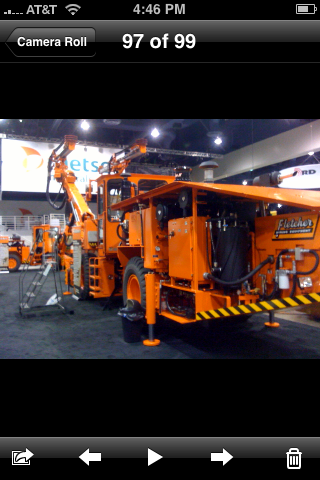 Tapping on the curled arrow on the lower left corner brings up a menu of different things I can do with that particular photographic image: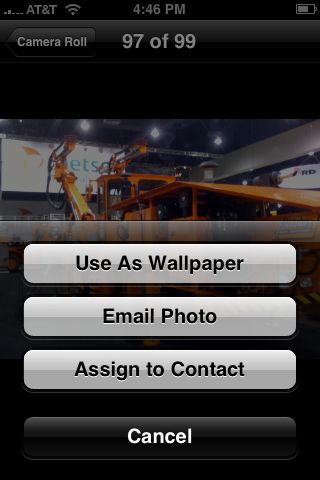 If you guessed I tapped on "Email Photo", you'd be right.
The iPhone then moves you to the email application with a typical blank set of fields to fill in. I typed "mobile@facebook.com", along with a subject line that I hope will become the caption of the photo, as you can see: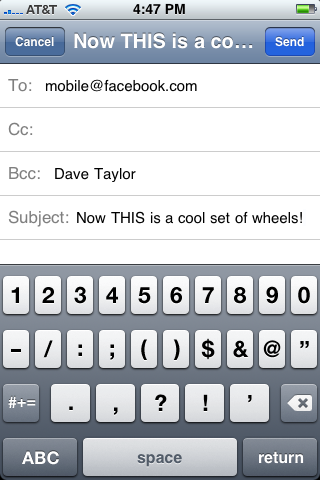 A tap on "Send" and it's off…
Am I done? Nope, not even close. But it's not too bad. About 90 seconds later a response comes from Facebook: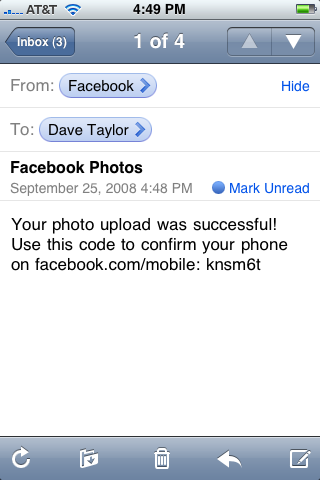 Okay, so I can do that. I log in to my Facebook account and go to the URL specified,
facebook.com/mobile
, just to see:
I click on "+ Activate Facebook Mobile" and suddenly the lower left of the existing page is highlighted: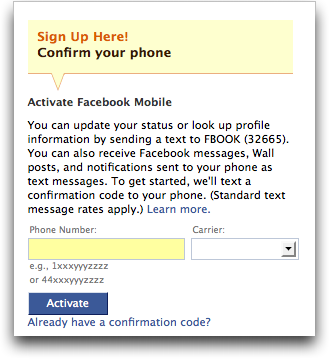 I can enter my phone number, but that's actually work, so instead I'll click on the small text link "Already have a confirmation code?" because, well, I do:

With the code that Facebook emailed me entered on this page, I click on "Confirm" and see:

Done!
Now, where's that picture I just uploaded?
To track it down, I went back to my home page on Facebook, then clicked on the "Photos" choice under Applications:

Clicking on it shows me a bunch of photos from other people, but there's a small link "My Photos" that I click on:

There we go, the "Mobile Uploads" tab is what we want! Click on it and:

That's a winner! It's the photo that I emailed from my iPhone to my Facebook account and it worked. How about that!
Hope that helps you get the most out of Facebook. I'd also like to let you know that I have quite a bit of
Facebook help
here on the site and that I also have an
Ask Dave Taylor Facebook Fan Page
that I invite you to join.