I read through your article on How to create an iPhoto Smart Album and have been finding it pretty slick indeed. Problem is, after I've created a Smart Album I find that the photos aren't always what I want: is there some way to tweak or modify an existing Smart Album in Apple iPhoto without having to recreate it?
You're in luck that there is indeed a way to tweak and mess with the selection criteria that are being used to create your Smart Albums in iPhoto. If you think about it, by the way, I hope it's clear that what you really have is a database selector tool and that iPhoto is really a photo-oriented database.
Have another look at that earlier article and you'll see what I mean. All that's missing is some sort of database garbage collection and optimization capabilities (but those might both be happening under the hood in iPhoto, of course, which would explain why sometimes the program seems to eat up your computer with mysterious tasks that aren't explained in the interface anywhere).
A Smart Album, therefore, is really just a set of rules that individual photos must meet to be included. The earlier example had the criterion simply being that they were taken between two dates (Jan 1, 2008 and Dec 31, 2008). Let's add a secondary criterion to this to narrow down which photos match.
To do this, you want to click on the Smart Album on the left side of the iPhoto main window, then select File –> Edit Smart Album: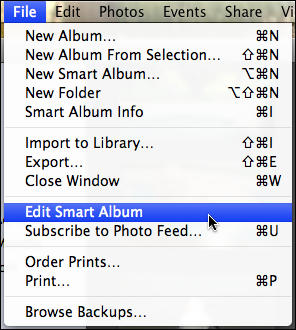 It pops up the window that contains the current criterion or criteria you've used to create the Smart Album. Want to add more? Just click on the "+" on the right:
Here you can see that I'm going to constrain it to be an album that contains all pictures in a specific date range that are not from the specified Event.
Once I'm done, I click "OK" and the Smart Album will rebuild itself with the additional criterion taken into account.
What makes these awesomely useful, of course, is that if in three months I find some pics I never pulled into iPhoto and some of the match the specified date and are not part of the Event I'm excluding, they'll automatically show up without me having to do anything at all. Very useful!!