I've just set up a group for my church on Google Groups after having researched a variety of alternatives and so far, it's going well. Except for one thing: whenever anyone responds to a message sent to the group, everyone sees it, not just the person who sent in the original message. This is driving some parishioners crazy. How can I fix it?
After having had lists in various places and using a variety of hosting services, I too now am a fan of Google Groups and find that it does a very nice job of hosting my own mailing lists, be they small private lists or large public ones. One list I have was suffering from the same situation as you describe, where every response was sent to everyone on the list, not just the original message sender. Not good.
Fortunately, with a bit of poking around, it turns out not to be too hard to identify the setting you need to tweak.
Start by connecting to the home page of your group. On the right you should see something that looks just like this: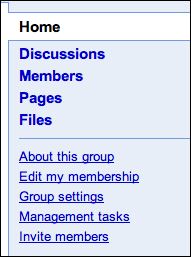 Click on "Settings" and you'll see:



Now along the top, click on "Email Delivery" and scroll down just a little bit. You should see:



As you can see, there are a bunch of different options here: the one you want is the second, "Replies are sent to the author of the message."
Make sure you now jump to the bottom and "Save" your changes, and you've just eased the burden of your mailing list members.