I know this is an old issue and I hope I'm not violating any blogging "netiquette" rules, but on the security issue you brought up on your business blog, isn't it feasible to just go into your network connection properties and unselect "File and Printer Sharing on Microsoft Networks" when you are connected to a hotel or cafe network? This should stop anyone from seeing your files, correct? Since I have a password protected Administrator and other usernames on my laptop, they shouldn't be able to browse the file system with the standard double-backslash addressing ( \\GabesLaptop\C$ ).
You're talking about the article I wrote a while back on my business blog called Is this any way to set up a hotel Internet connection? In that article I note how incredibly easy it is to get onto other people's computers – particularly PCs – by simply plugging in and visiting the "network neighborhood". Since everyone in a hotel is on the same subnet, the same local area network, anything open is open to everyone, malicious, curious, or otherwise.
You're right that the first and most important step to protect yourself in these sort of situations is to disable your own file and printer sharing (though odds are good you don't have a portable printer, it just happens that the two are in the same place). Let me show you how to do that, then we'll talk a bit more about security settings.
In Windows XP, it's rather hard to find the sharing settings because, unlike Mac OS X, there's no control panel labeled "Sharing", and to my way of thinking, the "Security Center" is darn complicated and the wrong place to go to make this change anyway. Instead, as you suggest, you need to go to START –> Control Panel –> Network Connections. Now you'll see this: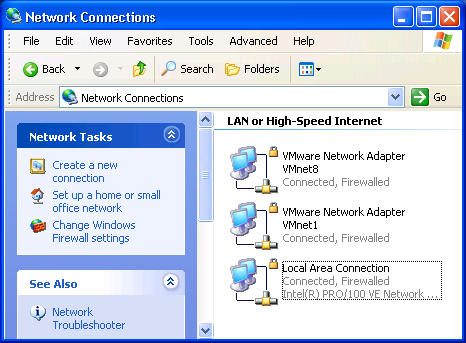 Now you'll want to identify the one labeled "Local Area Connection" (like me, you might well have a variety of other network connections listed too). Double-click on it and you'll see the basic statistics for your connection: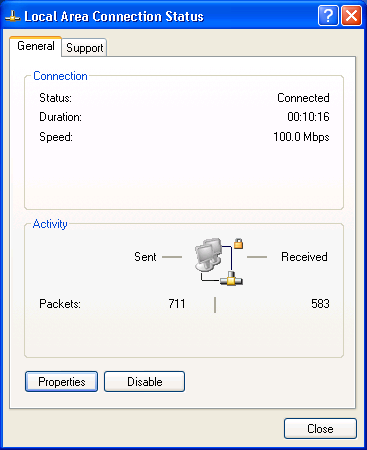 One more step. Click on "Properties" and you'll see a fairly complicated list of different network configuration options presented in what I have always thought was a baffling manner: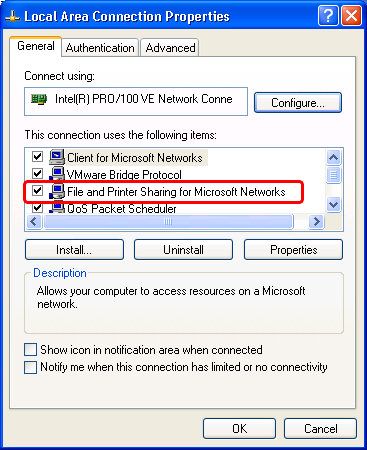 The key property you want is "File and Printer Sharing for Microsoft Networks": find it and click the little checkbox adjacent until it's
not
checked. Then click "OK" and you've disabled file and printer sharing for your network. Good job. That's a big step towards locking down your laptop. If you're using dialup networking, check out the slightly different path that Microsoft offers to resolve this lurking danger in their article
#199346
.
Now that you've done that, however, there are many other steps I recommend, including having reliable, up-to-date antivirus software and a good spyware utility too. My choices for those are the terrific – free! –
AVG
for anti-virus protection and the (commercial, paid) Webroot
Spy Sweeper
utility.