I signed up for Google Buzz along with everyone else, but every time I look at it in my Gmail account, it's just status updates from Twitter. If I wanted to follow these people on Twitter, I'd do so. I want to get rid of Google Buzz, or at least not have it show up in my Gmail screen. How can I do that?
I'm with you. Google Buzz hasn't delivered on the promise of a "Twitter killer", even with tons of people seemingly involved. I have the same bother on Gmail too, actually: I know I'm caught up when there are no new messages in any of my folders (uh, "labels") in Gmail, which means I constantly click on the Buzz link and see… tweets.
Yeah, not exactly what I want to have show up in my Google Mail interface, so I also want to get rid of Google Buzz there.
Now, in terms of completely quitting Buzz, I'm not sure. Seems like it might be a smart to not completely quit since Google has a pretty good track record of building really cool thing (though most of the coolest seem to have been acquisitions, but that's just a smart business strategy in my opinion).
Okay, so let's see how to disable Google Buzz within Gmail!
Before I start, here's what I see on the top left in Gmail: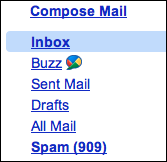 Click on "Settings" and you'll see that the number of tabs in the Gmail configuration area keeps growing:

Click on "Buzz" and scroll down to the last two choices:

At this point I suggest you choose "Do not show Google Buzz in Gmail" rather than completely disabling Google Buzz. Why? Because I'm a bit leery about the warning that deleting Google Buzz also deletes your Google Profile. Somehow that seems a bit Draconian, but it's their site, so I guess they can decide how to hook things together.
Make your choice, click on "Save Changes" at the bottom and in either case, you'll now notice that your Gmail interface is missing the little Trivial Pursuit wheel: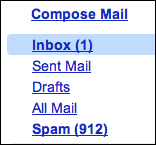 That's all there is to it. And I guess I won't see you on Google Buzz after all…