I've been running a group on Meetup.com for a while, but have decided to move it over to Facebook because that's where all my members are anyway. What I'd like to do is delete the Meetup group, but I have heard from more than one person that it's impossible to accomplish. Not for Dave Taylor, though! Show me how it's done!
Sounds like you have put me into the role of superhero. Hmm… does that mean that I need to start wearing a cape? Actually, I kind of like that image… faster than a speeding hard drive, more powerful than a quad-core, able to squash pesky bugs with a single click, it's Super Dave! What do you think?
Oh, you didn't write to ask me about that, did you? You want to know how to delete an unused group from Meetup.com. Here's the reality: as an organizer or co-organizer, you can't remove or delete a group. Meetup.com even says so: "If you feel comfortable that you're ready to go, please send an email to the Meetup Community Team, and we'll take care of finishing the process from here."
Let me step you through the entire process, however, because my friend Deb Frey generously let me help her delete a group she'd also moved to another event organizing platform…
Log in to your Meetup.com account, and on the right side of the main page you should see a list of groups for which you're an organizer: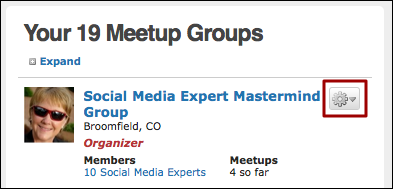 See the little gear icon? I highlighted it. Click on it and you'll see a menu pop up: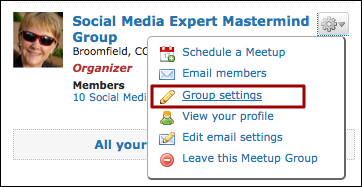 Choose "Group Settings" and you'll see a bunch of options, nicely organized: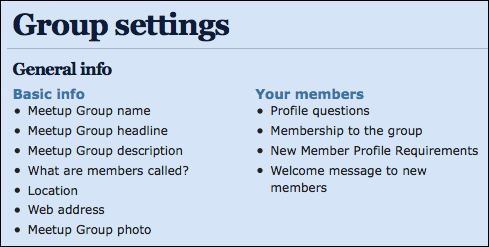 We'll need to do two things here. First off, it's time to disallow anyone else joining the group, so click on "Your members" and scroll down to find this:



You need to choose the last of the options, "No one, the group is closed to all new members." Save those changes and you'll pop back to the main group settings page. This time, click on "Basic info" instead, and you'll go here: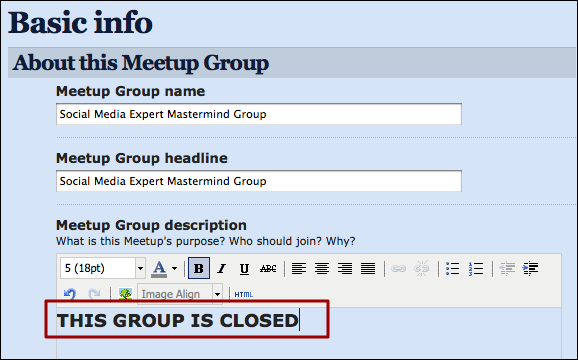 As you can see we did here, you need to change the description of the group to "closed" in some manner or other. Save that.
Now, if you haven't yet sent a message to every group member, do so, letting them know that the group is being deleted and where to find its new home (if you're indeed moving to Facebook) or suggest other places they can find a replacement group, whatever.
Done? Now you need to
email the Meetup admin team
asking them to delete the group. Here's what we did: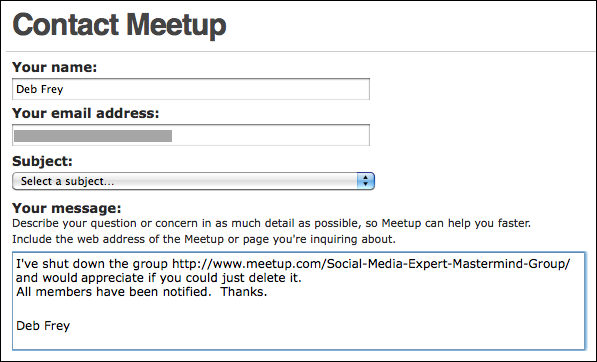 I clicked on "Send" and…



That's all there is to it. Now it's up to Meetup.com's admin team to perform the actual group deletion.
---
Update:
Four days later, here's the email that Deb got:
"Hello Deb,

We removed that Meetup group as per your request. Just out of curiosity, is there a specific reason why you deleted your Meetup Group? Is it something to do with the site or the service? Or is it something else? Whatever the reason, we'd love to know. It helps us understand how people use Meetup and interact with the site, and that helps us make Meetup better and better.

If there's anything else you need, just let me know!
Quickly and surprisingly easily done.