Now that I have a shiny new iPhone, I've gone a bit wild adding applications from the iTunes Application Store. So many applications that it's out of control. Now I want to delete some, but each time I delete them on the iPhone then hook the phone up to the computer, they reappear! 🙁
You aren't the only person to be puzzled by this problem, from what I have been reading on blogs and discussion boards, so don't feel like you're doing something wrong. 🙂
The trick is to realize that you probably have iTunes configured to automatically sync all of your Apps with your Apple iPhone. Which means that if you delete it on your phone, iTunes dutifully adds it back, just like it's supposed to do so.
One solution you can do is to stop syncing, but what I think works better is to just delete the apps you don't want from the iTunes application on your computer and your iPhone will only have what you want without you fiddling with it directly or fighting the sync process.
Here's how I deleted an unwanted application and what happened when I resync'd the iPhone afterwards. First, here's a small subset of the apps I've already downloaded: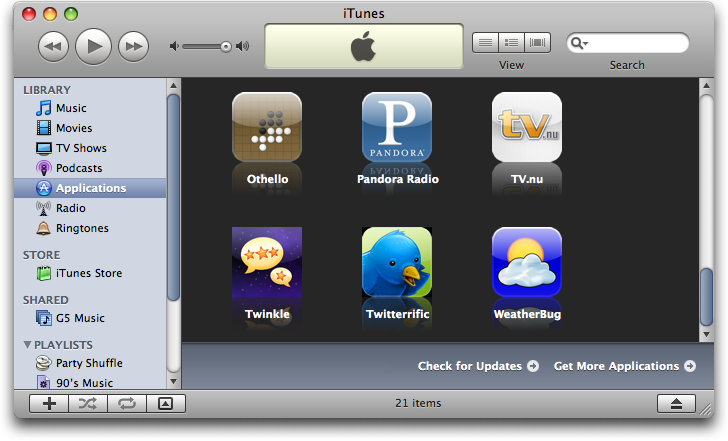 It's not obvious what to do here, but if you hold down the Control key and click on an application icon. You see:
Choose "Delete" as I am doing, and the icon — and application — vanishes. Well, not without you confirming that's really what you want to do:
You can, of course, check "Do not ask me again" if you'd rather not have this extra confirmation window each time you axe an app. But there's still another one left:
Choose "Move to Trash" if you're truly done with this iPhone application and don't want to ever drop it on your phone again, otherwise you can opt to "Keep Files" if you want.
Next time you sync, here's what you should see if you haven't also manually deleted the app on your shiny new iPhone too:
I have to admit that at this point I found things a bit confusing: i selected "Don't Transfer", on the belief that it meant that the apps from my iPhone wouldn't then be copied back onto the computer and it didn't, but it also didn't actually copy the new apps I'd downloaded from the iTunes Application store until the
second
time I sync'd up my phone. Your experience may vary, but don't be surprised if you have to sync once or twice extra before everything's all as you want.
Finally, if you haven't been here before, I encourage you to check out the extensive
iPhone help
offered here, all gratis, of course.