I'm kind of freaking out. Apparently as of March 1st, 2012, Google will be tying together all the activity I do across any and all Google properties, and mining all of my old search history, both on Google the search engine and YouTube. Yikes! How can I opt out?
You're right that Google is aggregating its complex web of privacy policies and simultaneously creating a single data store of all your search and usage history, though it doesn't seem to extend to your Google Map searches, Google Doc document content, etc. As Google describes it, "We're getting rid of over 60 different privacy policies across Google and replacing them with one that's a lot shorter and easier to read."
More importantly: "We use information collected from cookies and other technologies… to improve your user experience and the overall quality of our services. For example, by saving your language preferences, we'll be able to have our services appear in the language you prefer. When showing you tailored ads, we will not associate a cookie or anonymous identifier with sensitive categories, such as those based on race, religion, sexual orientation or health….We may combine personal information from one service with information, including personal information, from other Google services – for example to make it easier to share things with people you know."
Some people are very anxious about this change and others see it as digital business as usual and nothing to worry about. If you're worried, there are a couple of things you can do, the easiest of which is to simply log out of your Google account prior to doing a search or similar. How to do that? Go to the Google home page and look on the top right for your name. If you see something like this:


Click on the tiny triangle and choose "Log Out". Instead, you'll then see:


People who are more serious about this can have their Web browser go into "incognito" or "private" mode, but you can also delete your Google browsing and search history too, by simply going to
google.com/history
. Here's what you'll see: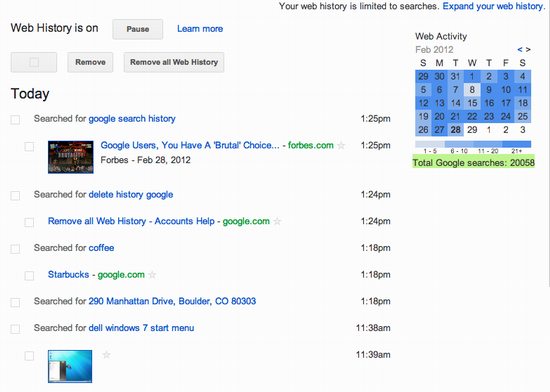 If you never turned on Web search history, you might instead see a note that Google has no data in its archive about your searches. In that case, you're good.
If you do have this history, your options are to remove the current history or all Web history. In addition note at the top you can "pause" the Web History tracking capability, which should effectively opt you out of the new service too.
But we're not done. Look on the left side and you'll see that there are subsets of your Web search history based on the individual services: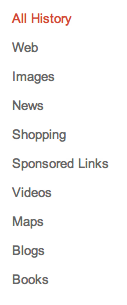 Here you can see that Google differentiates between its different properties – which makes sense – and can drill down to find out what searches have been done on each service. For example, when I click on video I find that I haven't done much recent searching on YouTube:



Want to wipe all your history and disable future tracking? Go back, click "Remove all Web History" and it'll do everything you want:



Me? I'm wiping everything to a clean slate and will see how things proceed with Google's changes and consolidation of my search and usage data.