I'm tired of Gmail's threading and performance problems and want to just give up and bail on the service entirely. Not just ignore my account but actually delete it from the Gmail system. Oddly enough, though, that seems to be impossible. So, Dave, how do I delete my Gmail account?
Wow. I have certainly heard a lot about how people don't like Gmail's threading service (see the comments after my article How to Disable Gmail Threading) and I have Twittered way too many times about Gmail being slow – or slower – but still, canceling your entire account? Is that allowed by the Googleplex Overlords? 🙂
But you seem pretty adamant, so I'll help you out, and risk the wrath of Those In Mountain View.
The reason that it's hard to cancel your Gmail account is because when you signed up for your account, you actually got a Google user account, and Gmail was just a piece of it. Yeah, they're not too clear about that.
Nonetheless, that's the secret that will help you figure out how to axe your Gmail account.
Start out by logging in to your Gmail account and click on Settings:

Once you're there, go to "Accounts and Import":

Near the bottom of that page is the "Google Account Settings" area. Read what they say:
Notice that there's no mention of 'cancel account' or 'delete account' or anything? Yeah, well, that's where you want to go anyway. Click on the "Google Account Settings" link and you'll be pushed to the Google Account area:
That's the default setup: Gmail, iGoogle and Web Search history. You can't click on "Settings" next to the Gmail link, however, because that'll take you back to where you once were. Instead, click on "Edit" next to My Products…
Now you can finally see what's going on! The question is: do you want to delete your Gmail account, or do you want to delete the entire account and all Google services?
I'm going to assume the latter, though if I'm wrong, you can see what to select here. I click on "Close account and delete all services" and get this long, complicated survey: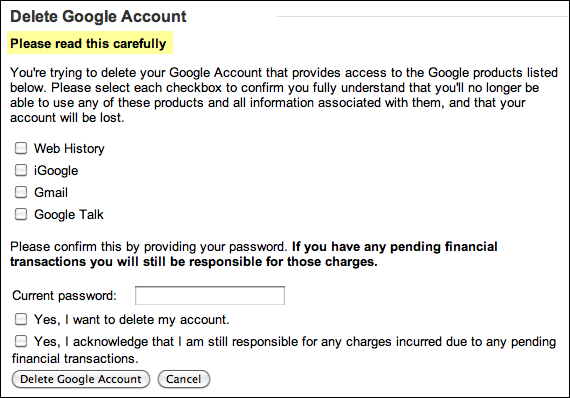 Ya really want to proceed? Check all the boxes, enter your password again and click on "Delete Google Account", and…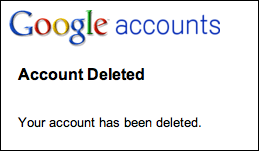 Yowza. Done. Nothing left, email bounces, no login to access, nada.
Hope that's a good thing!