I've got a real problem, Dave. My college-age son had a party in my house while my younger children and I were on a trip and now I find that my house is a venue in Foursquare called "Party House". I don't want that. At all! How can I delete my house as a Foursquare venue??
Yow. As a parent myself, I live in fear of having my privacy shattered by one of my children having a friend over — or a friend of a friend — who creates a geolocation venue either with a suggestive name (like "party house", eep!) or has my full name ("dave taylor's house"). I cherish my privacy and if I want to put my home address on the public grid that's something I should decide, not someone else. It's a major issue.
I won't ask about the discussion you had with your older son when you returned from your vacation and found that he'd hosted a party because, well, maybe he asked you ahead of time? 🙂 Still, that is the stuff of modern parenting nightmares.
Turns out that there isn't a great answer for you because Foursquare, like so many other geolocation games (Gowalla, Brightkite) really wants to preserve the integrity of its database. You can imagine a malicious person moving famous venues or simply deleting restaurants or stores she didn't like, etc…
So the Foursquare recommended solution is to simply post about the problem at Getsatisfaction, its support site. Here's the best thread I could find: How can I delete a Foursquare venue?
Some small subset of Foursquare users are promoted to "super user" based on their usage and I am lucky to be one of them. I am apparently at level 1 based on what I can do, but it is enough that I can actually delete a venue myself. Well, "delete" is probably the wrong word because using the Foursquare system, I simply mark it as "closed" and it vanishes.
My friend had a problem with duplicate venues defined for his consulting business so I actually deleted the duplicate to be able to demonstrate how it works. It's not generally applicable, though, unless you know someone who is a super user, of course. 🙂
I started by logging in to my Foursquare account. On the top right is a search box:



When I searched for my friend's venue name, I found multiple matches, including the venue that he wanted to have deleted: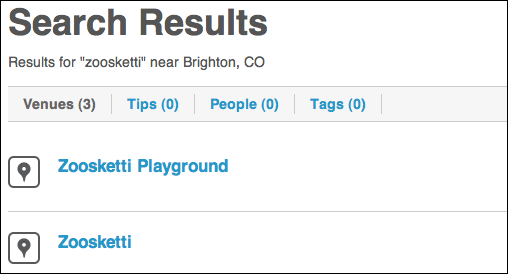 The one we were planning on deleting was simple "zoosketti". When I click on the match, much more information is displayed:



As you can see from the highlight, "Edit Venue" is the link I want to click (and I surmise that if you aren't a super user you won't see this link. Sorry 'bout that!)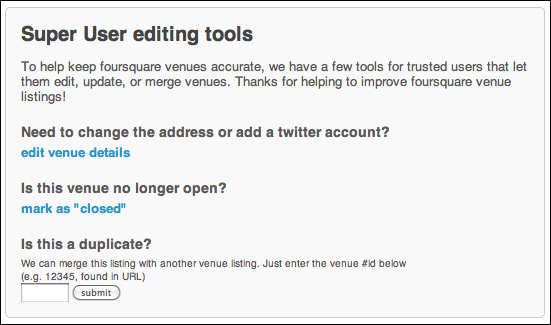 Since there's no "delete venue" option, I'm going to simply mark it as closed by clicking on
mark as "closed"
. Now the venue name gets a line through it:



And another search reveals that it has indeed been removed from the database.
Since odds are good you aren't a super user on Foursquare, I apologize that this option isn't available to you. Instead, I would suggest you simply post your venue deletion request on the
How can I delete a Foursquare venue?
thread on Getsatisfaction.
Hope that's helpful.
I will note that I imagine that geolocation services will all have to wrestle with this sort of thing as more and more residential locations show up in the database. For a lot of reasons, I think it'd be a disaster for me to have an app that shows where everyone lives whether or not they grant me permission to know their home address.