Hi, Hotmail recently converted me to their new "Outlook" mail. Tried to delete an old folder yesterday. Big problem, there is no longer a "gear" icon in the folder section to manage your folders. Hence, you can no longer delete and obsolete folder. Crazy, but true! Thanks' for any help!
A lot of people have been surprised and rather confused by the changes in Hotmail as the Windows Live team updated the interface to make it more Outlook-like and more, well, modern. Problem is, they forgot that dictum of "if it ain't broke, don't fix it" and now it seems like things that were easy have become tricky or impossible.
Fortunately, deleting an unused folder isn't one of them, though as you have figured out, there is no more gear button to help figure out how to accomplish what you seek. Instead, the interface has become more app-like and as with Google's Gmail and other Web-based applications, you need to learn the benefit of experimenting with right click or similar.
And that's exactly how to delete those pesky folders.
Let me show you!
First off, within Internet Explorer in Windows 8, here's the top left of my "Outlook" style Hotmail inbox: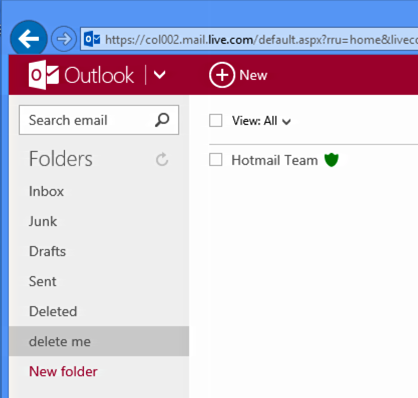 You can see that I've created a new folder ingeniously called "delete me". You can also see that there's no gear icon or button.
Move your cursor over the folder name, however, and right click (
or control+click if you're on a Mac
) on the folder name and a menu of options pops up: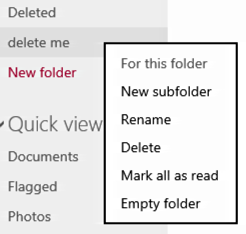 You can see, the option you want is "Delete". Chose it and…
Yup, that's what you want to do, and it's nice that you don't have to worry about the messages in the folder just vanishing into the ether. You can always go to "Deleted" and dig 'em out…
Ready? Click "Delete" and that's it. No confirmation, just a folder list that no longer includes that particular folder: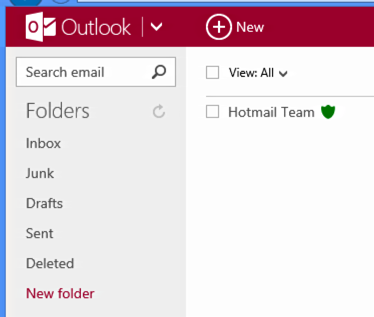 Easily done. My experience with the new Outlook interface is that everything's still there, you just have to poke around a bit to find some of the features you're used to.