How do I delete a "comment" I made on my own album in facebook?
This is so simple that I'm a bit surprised you emailed this question to me, actually. While Facebook has a rather Byzantine organizational structure and it's common for people being unable to figure out where things are, it's usually pretty easy to figure out how to do things…
So let's dig into it and see what we can find.
But really, it's easy. Check it out: here's a comment I've left on my own photo album on Facebook: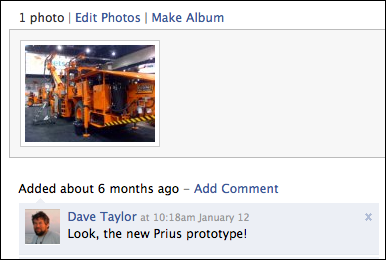 The key is the little grey "x" that shows up just to the right of the comment. Now, to be fair, sometimes it's not displayed until you move your mouse over that general area, but a little experimentation should reveal what you seek!
Click on it and:

You do want to delete the comment, indicate so and….

No comment!
I hope that helps you with Facebook. I'd also like to let you know that I have quite a bit of
Facebook help
here on the site and that I also have an
Ask Dave Taylor Facebook Fan Page
that I invite you to join.