I don't know how it's happened, but I seem to have a bunch of duplicate tracks in my (huge) iTunes library and it's annoying as heck. I can remove them by hand, but it's tedious and I'm afraid of user error. I checked out the "Show Duplicates" feature in iTunes, but it seems to think that songs with the same name by different artists on different albums are dupes. Uh, no. So what's the solution, Dave? Oh, if it matters, I'm on an iMac.
This is a common problem for those of us who have big music libraries on our computers, and there must be millions of us given the popularity of iPods, iPhones, and such! I have the very same problem you do, and I also am puzzled how I ended up with duplicate tracks, but there are definitely albums where every single track appears twice in my library. Not what I want, and a clear waste of disk space.
There is indeed a "Show Duplicates" feature in iTunes, but it seems to just operate on the song title, so if you have multiple covers of the same song, or different songs with the same name, then you're hosed. The good news, though, is that the feature isn't "remove dupes", which would be 1000x more annoying!
There is a "Show Exact Duplicates" option but let me also demonstrate a very slick third-party set of scripts called Dupin too. It's really slick and perfect for our task.
To start, though, try File –> Show Duplicates. You'll see something like this in iTunes:

Look closely and you'll see that, for example, there are three versions of
Ain't Nobody But Me
, by Supertramp, but it's on two different albums. Worse,
All The Things You Are
by Ella Fitzgerald is only on separate albums, and is actually different recordings. So we don't want to blindly delete these tracks.
What's more confusing to me is that it's not showing duplicates, it's showing both the original and the duplicate: if you blindly just select them all and delete them, you'll have lost
both
copies of the track. Not at all what you want!
Here's a secret trick, though: hold down the Option key then click on File and you'll see that the menu option has changed from "Show Duplicates" to "Show Exact Duplicates". Do that and the results are a bit more logical:

That's better! Now it's just true duplicated files, both the original and the duplicate. If you look closely, notice that for some reason my copy of the Genesis album
Invisible Touch
seems to have three copies of
Anything She Does
!
Problem is, you're still stuck with no easy way to weed out the dupes. There's a further nuance too: what if you have two versions of a song in a compilation, same name, same album, same artist, but different track lengths? That's where
Dupin
comes in so handy, and for $15 it's a small investment for your sanity.
Download, install, and get your registration key and you'll be able to launch it and see, well, not much: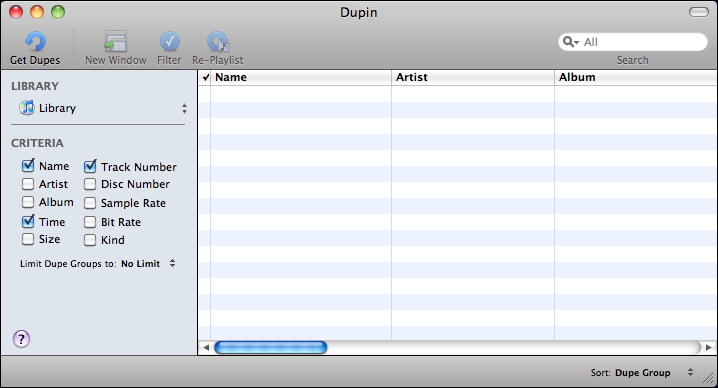 Look at the criteria on the left, however. Here you can define what it should take into consideration when it tries to figure out if one track is a duplicate of another or not. I chose to have it check song title, artist, album and track length. Now, click on "Get Dupes" on the toolbar and after a few seconds (or possibly longer), you'll get a list of the duplicates base on your filtering criteria: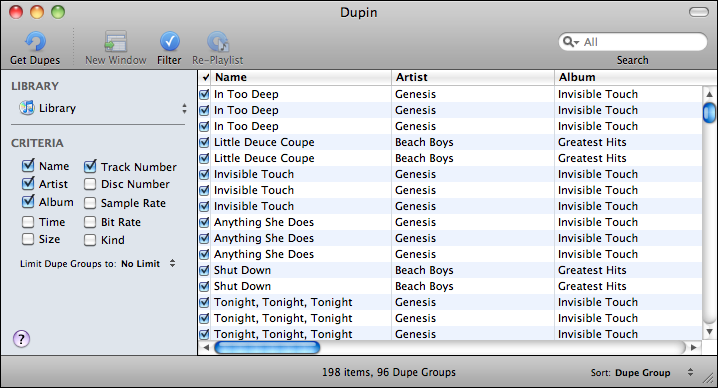 That looks accurate! Here's where Dupin is cool: instead of making me select every other track as I would have to do in iTunes itself, Dupin lets you specify exactly how it should choose between the original and the duplicate by choosing
Tools
–>
Filter Controls
, which brings up this window: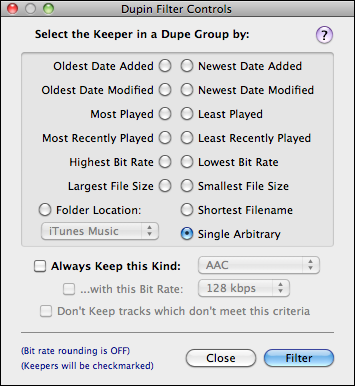 The app says it clearly: select the keeper in a dupe group. Do that based on whatever criteria you want to use, I use "Most Recently Played", then click on "Filter". The result:
Notice the tracks checked? Those are the
keepers
out of the batch. It's a bit tricky but you're denoting which ones to keep, not which ones to delete or remove. Ready to axe the dupes and keep the keepers?
Go to
Tools
–>
Purge…
and you can have Dupin do the heavy lifting, trashing the tracks that you've ascertained are duplicates:
I'll go for it, what the heck. Click on "Remove" and you get another choice:
Oh, okay, we'll keep the files "just in case" by choosing "Keep Files". Next thing ya know…

and it's done! Now, did it really work? Did we really get rid of the dupes? Easiest way to find out is to switch back to iTunes and choose "Show Duplicates" again. If you're like me, there are still dupes, but look closely and you'll find that they're different duration, on different albums, performed by different musicians, or otherwise not actually duplicates. Easy!
I hope that helps you figure things out. As always, if you find shareware useful, don't forget to pay and support the programmer's efforts!