I have an iPod shuffle and it's pretty neat, though of course I'd love to have a tiny screen on it. Problem is, a lot of the time the music that iTunes drops onto the iPod isn't what I want. I do aerobics, and there's nothing that's a buzzkill faster than a slow song in the middle of a workout!
You're in luck: I have an iPod shuffle (though it's a first generation 1GB unit, not one of the sleek new devices that Apple sells. Nonetheless, from the perspective of iTunes they're all the same, just different sizes.
So it turns out that there are two main ways you can control the music that Apple iTunes autofills your shuffle: either by picking a playlist or by creating a smart playlist. I prefer the latter, because there's all sorts of cool stuff you can do with a smart playlist. I'll demonstrate how you can skip slow-tempo music, for example, but give me a sec to show the basics of working with the iPod shuffle first, okay?
Unlike any other kind of iPod, when you plug a shuffle into a computer running iTunes, you get a slightly different display: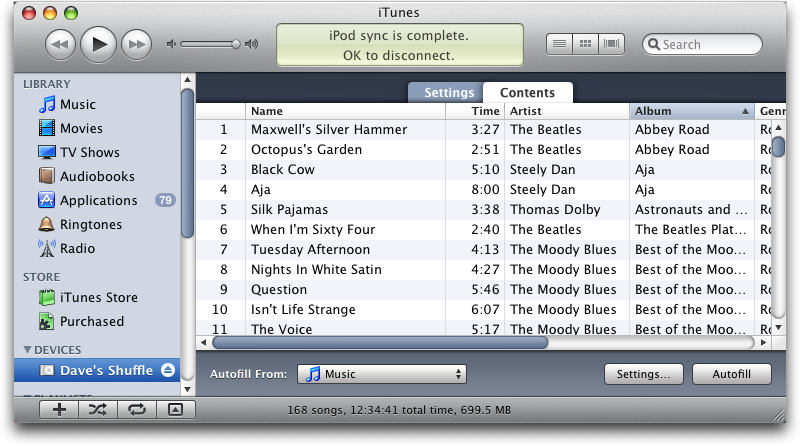 Let me zoom in a bit on the bottom part, because that's where it's interesting:
Here you can see on the pop-up menu that I've left it with the default selection of all music ("Music").
Click on Settings and you'll see that there are a few things you can tweak: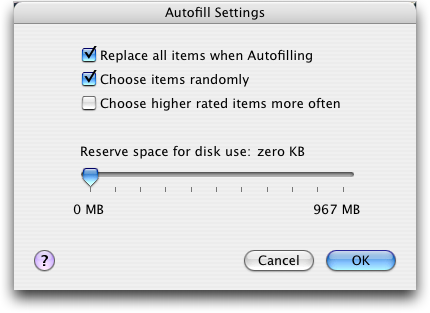 It slows the sync down, but I choose "replace everything" because that way each time I use the iPod shuffle I'm surprised by what is – and sometimes isn't – on the device. After all, a 1GB unit has about 950MB of space and my music library is over 27GB, so there's a lot more missing than present.
Click on "Autofill" or "Sync" and it'll start chugging along:

More interestingly, go to "File" –> "New Smart Playlist…" and you can create a smart playlist that's perfect for this task: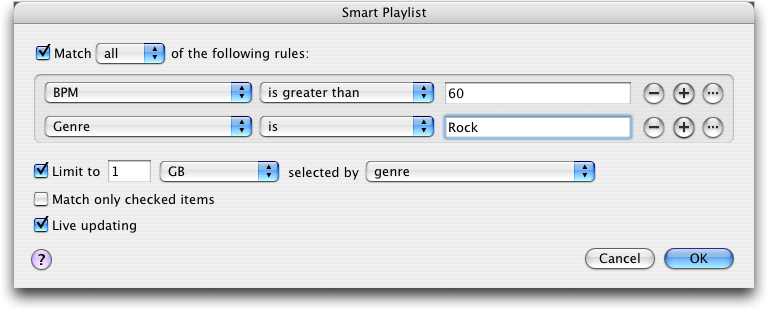 Here you can see I've constrained this playlist to songs with at least 60 beats per minute out of my "rock" genre (fast tempo classical probably isn't going to be so good for your aerobics or Nia, somehow), limited to 1GB of music total.
Back on the main iTunes window instead of "Music" I choose the new smart playlist, then click "Autofill" again and my shuffle has a randomly selected collection of up-tempo rock. Neat, eh?