I've seen some Facebook profiles that have very attractive slideshows of their photographs, rather than a static display of images one after the other. How can I do something like that for my own photographs?
There are a variety of different ways to accomplish this, but one that I like is Slide.com, which has two great features going for it: it's easy, and it's free. 🙂
To get started, pop over to their site and click on "Make a Slide Show". Now you'll see a couple of panels, but let's go through them one-by-one. The first step is to pick the images you want to include: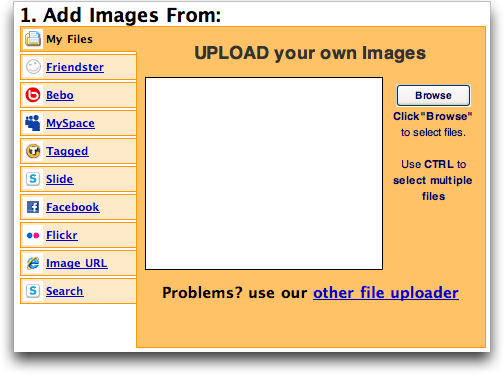 I'm going to add a few pictures from a recent trip I took to Hawaii… Now it looks like this: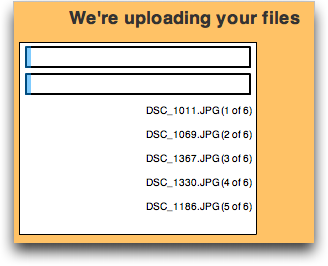 and then, shortly thereafter: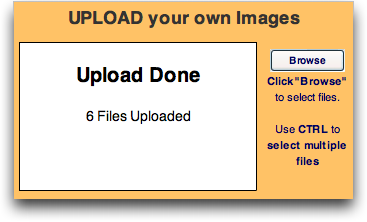 At this point the fun begins as we shift our attention to the right side of the screen, what Slide.com's team calls "Step 2":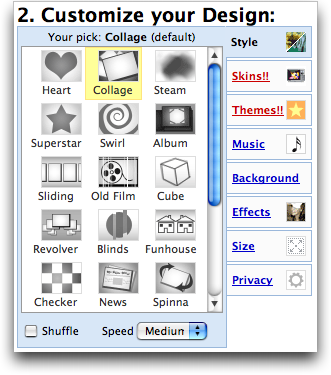 There are tons of ways you can customize the slideshow you're building, actually. A staggering number of options related to size, order of images, transitions, how they all collect, color schemes, frames, etc etc etc.
I'm going to choose "Album" as the style, "shuffle" the order and leave the transition speed as "medium". The top of the page will show you a nice preview, so you definitely should try changing settings and see what looks best for your images and personal tastes.
One really important step is to scroll down on the page and find the section that lets you add captions. If your pics are like mine, captions like "DSC1047" really aren't very descriptive, so here's where you can add better captions for your images (though with some styles, the captions are never displayed):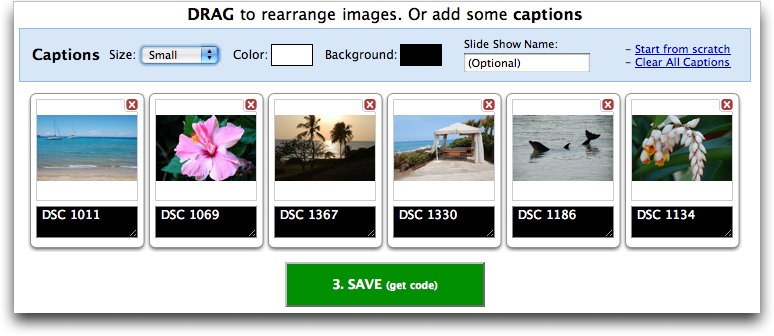 If you don't like the size of the created slideshow, you can also change it, and one additional tab worth investigating is the "Privacy" setting, letting you choose "Public" or "Private" only visible to people with whom you already share.
Finally, when you're done playing with the many options (yeah, you can easily spend an hour or longer just fiddling!) click on "Save (get code)" and you'll be invited to join Slide.com (which you should do so you can edit and modify the slideshow later). Finally, you'll get the necessary code to paste into Facebook or whatever other page you prefer.
First off, you'll get a "shared this slideshow" link, like this:
Share my slideshow
. Go ahead, click on it and you'll see how that looks.
Not quite what you want? Slide.com can give you code and information on how to paste the code onto your profile on a ton of different sites, including Facebook, MySpace, Ryze, Orkut, Bebo, Friendster, Tagged, Xanga, Yahoo 360, and on and on. Facebook, however is kind of hidden on the lower left: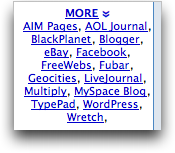 CHoose that and you find that there's an automatic inclusion option:
You can do that and let it automatically do the heavy lifting, but if, like me, you actually want to also include the slideshow elsewhere, I suggest you click on the "Can't find what you're looking for? Click here." at the verrrrry bottom. Now you'll get the code snippet needed to embed the slideshow: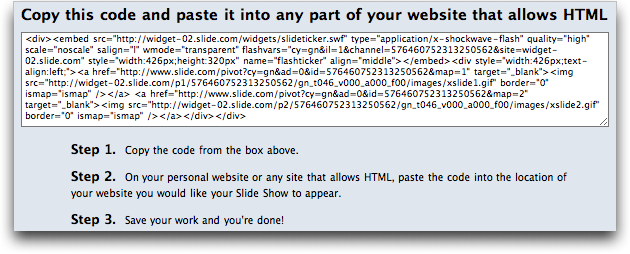 And, when I go ahead and paste it here on my blog entry, it works just fine and is very reader friendly.
(image removed due to archival date issues)
Nice, eh? Simple, free, and incredibly flexible. How Slide.com makes money I don't know, but it sure answers your question neatly and enjoyably!