I need to create a new screen name in AOL but am not sure how to do so. Can you help me out?
First off, let me say that I don't help kids try to circumvent protections that their parents have put in place: if you're a minor and want to foil the protections your folks have created, then you'd be much, much better off just talking with them and asking for permission. There's a reason that they're watching out for you…
Having said that, let's go through the process of creating a new screen name on AOL, because if you have a parental controls screen name, you won't be able to do this anyway, and if you don't, well, then you're legit.
Log in to America Online (AOL) as usual, then choose Account Settings –> Screen Name. (I'm using a Mac for these examples, but the Windows version is almost exactly the same. On the Mac, the Account Settings option is found on the "AOL" menu).
Now you'll see something like this: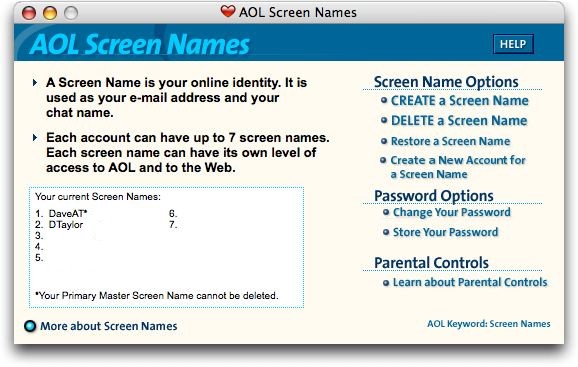 Click on the "CREATE a screen name" and you'll promptly be asked if you're creating an account for a child or not: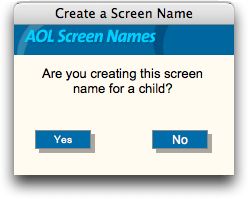 I'll choose "NO" here, and then get this: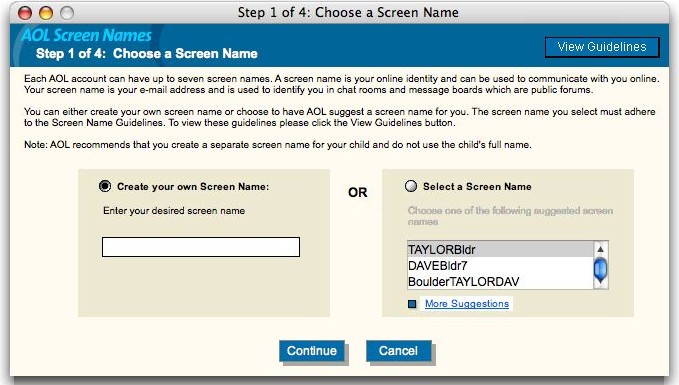 As you can see, you can take one of their suggested screen names, based on pulling bits out of your profile, or you can enter one of your own. If you enter one, be warned that there are a
lot
of AOL users, so it's not easy to find a screen name that hasn't already been taken!
From this point, the process is pretty self-explanatory, so I won't step through any further. This should get you started in the right direction, though, and good luck to you!
Additional helpful AOL tutorials:
•
Get rid of AOL popup ads!

•
How to delete an AOL screen name

•
How to change your AOL account password

•
How to cancel your AOL account