I am just getting into Facebook and want to create a new group for my friends to join. How do I do that without getting lost in the admittedly slick, but still confusing, world of Facebook and its many, many capabilities?
I agree with you that Facebook is far more visually attractive than MySpace and the like, but that it's also rather confusing, all in all. One thing that bothers me is that everything changes "within" the page, so that if you make the mistake of using the BACK button on your browser to try and back up, you just find that you're on the site you visited before Facebook, not the previous page on Facebook itself. Gets me all the time!
Anyway, creating a group is easy once you figure out the basics of navigating the Facebook world. Start out by logging in to your Facebook account and then clicking on "Groups" on the left-most navigational menu:


You'll now be looking at a list of different groups, but, really, what you want to see is the "Create a New Group" link on the top in fairly small type:



Click on it and you'll see the fairly complicated form you'll need to fill in to build your new group, starting with the basic information:


Your "Network" lets you create a group that's either just for your existing circle of friends and colleagues or widely available to the entire Facebook community. I chose the latter, since there are lots of Facebook users who I know, I just haven't connected with yet.
The categorization of your group is also critical if you want people to browse and find it. For my own "Friends of Ask Dave Taylor" group, I chose
Internet & Technology
–>
Cyberculture
. Perhaps "General" would be a better subcategory, but after years of running this site and chatting with so many of you, I feel like we're building our own community, so…
Once you've entered those rudimentary items, there's more you can optionally fill out:


You might or might not fill all of these fields out. It's probably useful to identify your location, however, and if your group has an affiliated Web site, definitely add that to the group description too.
Next up on this rather long and detailed page, you can also specify some additional capabilities for your nascent group:


Unless there's a reason to limit things, I encourage you to leave all the capabilities selected to make your group as robust and useful as possible.
Finally, you can determine how Facebook publicizes your group — if at all — with the last set of options: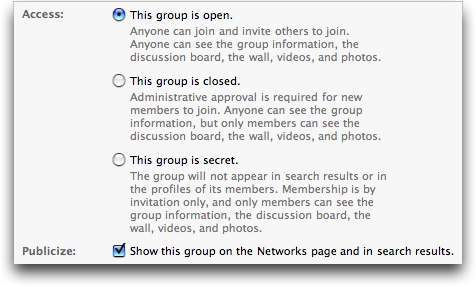 That's all there is to it. Specify all the capabilities you desire, add some useful (keyword rich) descriptive text to help people find your group, specify appropriate access capabilities, and click on "Create New Group" to make it so!



If you're so inclined and have a good one laying around, I encourage you to upload a picture as part of your process. It'll help your group stand out in search results and through other ways that people might stumble upon it.
Finally, once it's either uploaded or you've decided to skip the photo upload step, your group is created and you get a list of who is a member. For now, it'll be just you, but you can easily invite a few – or all – of your Facebook pals to join up, and even people who aren't Facebook members as of yet to join. Be careful, though, no-one likes spammy messages, even if you think your group is totally legit.
Hope that helps you understand how to work with Facebook groups. If you'd like to see what I created as part of this, please check out:
Friends of Ask Dave Taylor on Facebook
. I'll look for you there!