Okay, so your article yesterday about Genius playlists in iTunes (see How to Create Genius Playlists in iTunes 8) has me intrigued and I'd like to experiment with it. But on my iPhone. Is that a possibility? That is, can I create a Genius playlist on my iPhone 3G or, I suppose, on an iPod Touch?
Glad you enjoyed the earlier article. If you read my series of articles about the Genius feature in the latest version of iTunes (8.x), you'll see that I started out rather skeptical and become a convert as I watched how quickly it came up with interesting playlists based on my own extensive music collection.
Would it work on my iPhone where I have a lot of albums, but a lot less than in my big iTunes library? I wasn't sure, so I tested it out…
First thing I found was that when you're playing a song on the iPhone (and, an important caveat up front, you must be running iPhone firmware 2.1 or higher and iTunes 8.0 or higher on the computer with which you sync the phone) is that the nifty little genius "atom" icon now shows up immediately below the progress bar in iPod mode: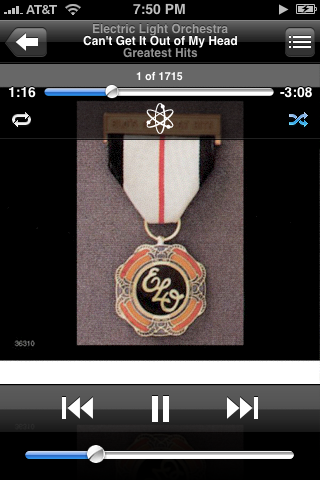 If you haven't enabled the Genius capability in iTunes, however, the iPhone knows and will complain about it (no worries, read this to learn how to enable Genius playlists:
Turn Genius Playlists On in iTunes 8
). If you have, however, it's astonishingly fast: tap the Genius icon and almost instantaneously you'll be looking at a Genius playlist based on the current song: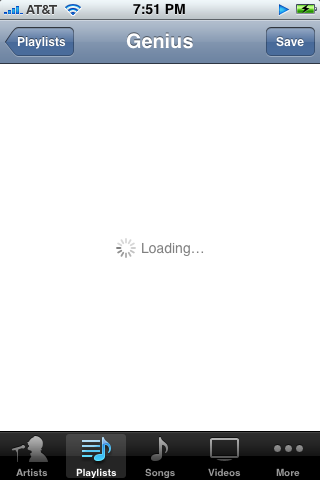 Well, alright, it takes a second or two. But still, it's darn fast:


Curious, I clicked "Refresh" and found that it again very quickly created a second quite good playlist of songs based on
Can't Get It Out Of My Head
by the Electric Light Orchestra: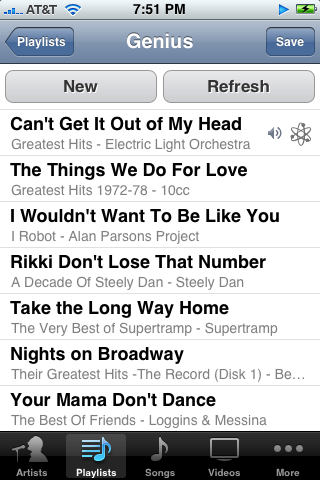 Finally, with Genius Playlists enabled, there's a new entry on the Playlist area of the iPod on the Apple iPhone too: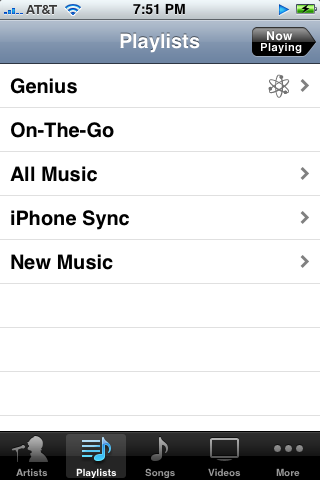 Now truth be told, as much as it's an interesting feature, i don't know how often I'll be using it. I know plenty of people really groove on the playlist capability of the iPod and, by extension, iPhone, but I have found that I love the variety of having it jump genres in my music library randomly, so I'm fine if I go from ELO to Bach to Kate Bush to Lionel Hampton (though that'd be one weird radio station!)
Nonetheless, it is an interesting and potentially cool addition to the capabilities of both the iPhone and the iPod Touch. If you find you're using it, pipe up and tell us about it. Thanks!