As I get more and more into the world of Facebook, I find myself wanting to create some mailing lists. I know how to do it in LinkedIn, for example, but what's the process for creating a new list on Facebook?
Once you've gone through the process of ensuring that everyone on your list is a friend of yours in Facebook, the process is relatively straightforward to create a mailing list.
As usual, the first step is to log in to your Facebook account, then click on the "Friends" Menu and choose "All Friends".
Now, on the top left, you'll see: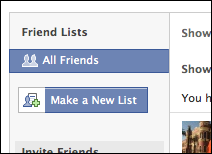 Click on "Make a New List" and you'll need to next come up with a spiffy name:
As you can see, I'm going to create one called "Film Fans". When done, simply press Return (or Enter, as the case may be), and you'll have an empty list:
With typical Facebook attention to detail, you can now just type in the names of the people who you want to add to the list: just a letter or two will probably be enough to bring up your match, along with a couple more (depending, of course, on how many friends you have in Facebook).
Here I type in "Gwen":
.. and my friend Gwen Bell's Facebook match shows up. To select it, I can simply click on the name. Easy enough.
Add all the names of the people who you'd like to have in your new group, then to actually utilize the group, go to "Inbox" and choose "Compose New Message":
Now simply start typing the first few letters of your new group and…
Voila! You've created and now also know how to use a mailing list / group in Facebook.
I should note that the current limitations detail that you can only have a max of 5000 members in a Facebook mailing list. If you want more than that, you'll need to split it into more than one group, and good luck.
I'd also like to let you know that I have quite a bit of
Facebook help
here on the site and that I also have an
Ask Dave Taylor Facebook Fan Page
that I invite you to join.