Sometimes when I'm browsing the Web on my Apple iPhone 4, I bump into a Web page that I'd like to send to a friend or two via text message. I know that there's a way to email someone the URL of a page I'm viewing, but how can I just get the URL into the copy/paste buffer so I can paste it anywhere?
Sounds like you've already spent some time poking around and figuring out how to work with Safari, the Web browser that's included on your Apple iPhone. It's a decent enough browser and accomplishes its main requirements, but while it makes it easy to launch the Mail app on the iPhone, if you wanted to send a Web page URL via Gmail, say, or as a text message, you're exactly right that there's no simple built-in solution.
It's really rather inexplicable: since there is a pop-up in Safari that offers a number of choices – as I'll show you in a second – why not just add "Copy URL" as a big, easy-to-tap button too? Apple, are you listening?
Before I show you how to copy and paste, let me just show everyone how to email a Web page URL to someone if you're okay with the iPhone's built-in Mail application.
Let's say you're in Safari and you bump into an interesting article or Web page. It'll look like this: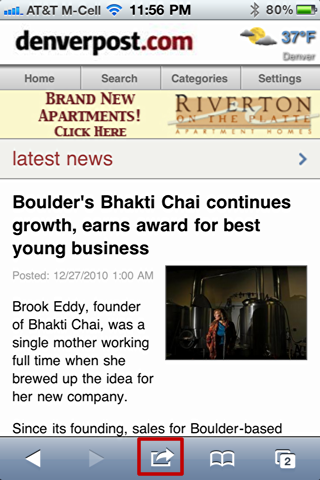 If you tap on the small arrow coming out of the box icon (is there an official name for this thing? 🙂 it pops up a bunch of options, including the ability to email the URL to a friend or colleague: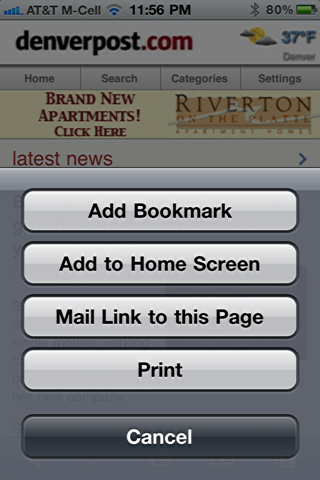 As you point out, however, if you want to send it to someone or save it in any app other than Mail, you're out of luck. So instead, let's learn the copy-and-paste way to grab a URL for further use, shall we?
Here we are again at an article in Safari, but this time I've dragged the top bar down so I can see the address and search boxes: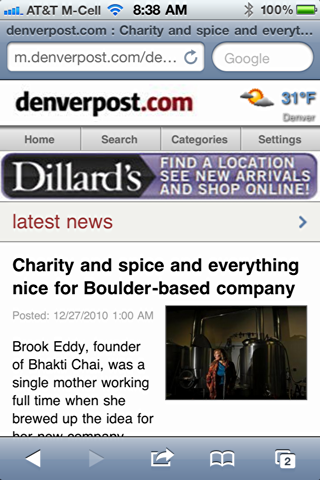 The trick is to tap once in the address box, ideally just to the right of the last letter of the URL. It'll give you the chance to enter a new URL, but that's not what we want: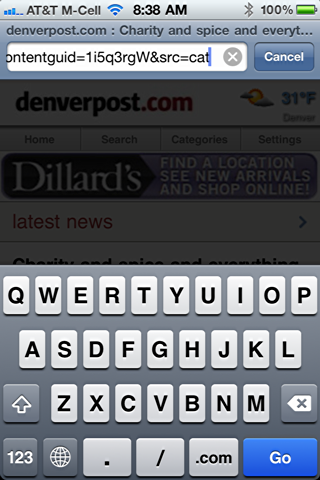 Instead, double-tap on the URL, again ideally to the right of the last character if possible. It'll select what it thinks is a word, almost always a subset of the URL itself:


This is the tricky bit: now you need to tap and drag on the lower blue dot to make sure that you've highlighted the URL all the way to the end, then tap and drag the upper blue dot back to the left (it'll scroll as it goes) until you can see the "http:" prefix of the URL. Like this: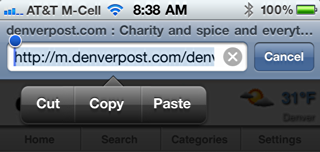 Great! Click on "Copy" and you've just copied the URL for the page you were viewing. You can paste it anywhere you can enter text, including in a Note, as text in a Gmail message, or as part of a text message.
For example, if I'm sending a text message to my friend Klaus, I'll end up looking at something like this: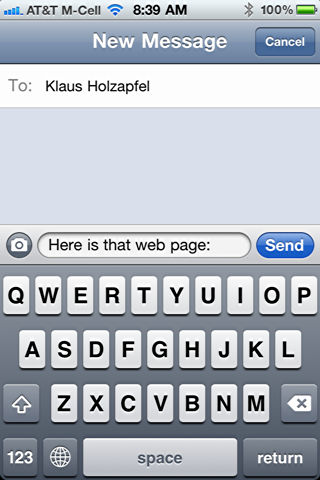 In the message field, I'll double-tap and it pops up the following options: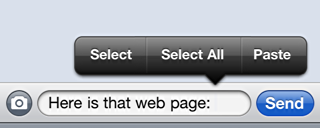 A single tap on "Paste" and…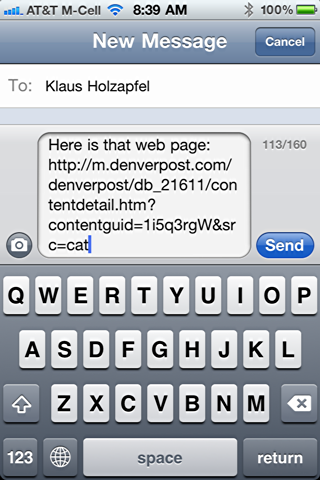 That's the trick. What's nice is that the URL will be in the copy and paste buffer until you replace it with something else, so if you want to send it as a text message to a friend then email it to your Mom and save it as a Note to yourself, that's all easily doable with that double-tap paste action.