Most photos we take are subjective to our own tastes – what we like, and what we think other people will like. There's nothing wrong with this, but if we are shooting for our viewers, editors or stock photography purposes, then we need to plan shooting photos differently. We need to shoot to get attention.  This means learning how to shoot conceptually, to incorporate concepts as a foundation to our photos.  Pretty pictures on their own are are just, well, pretty pictures.
Conceptualize the image and it grabs attention; it illustrates, and it sells.??
The first step is…
The first step is learning what these concepts are and exploring some examples.  There are literally hundreds of popular concepts, but thanks to photo marketing expert Jim Pickerell of PhotoLicensingOptions.com here are the top 200: Top 200 Photo Concepts.  
Some examples of the top concepts include: Technology, Abundance, Security, Americana, Lust, Forever, Equality, Family, Togetherness, Conflict, Integrity, and Loneliness.   When planning your photo shoot try to take pictures that will illustrate one or several of these concepts.
People are great to use in building these concepts. (See our previous article: How to Conceptualize Your "People" Pictures) You can also use nature, landscapes, animals, and buildings, to conceptualize your photos. Get creative in finding ways to illustrate an idea.
For example, a photo illustrating "conflict" could be a couple arguing, animals fighting, a storm, or an athlete facing a near impossible challenge. "Loneliness" could be a man sitting alone at a counter in a restaurant or a silhouette of a single tree on a horizon. "Integrity" could be illustrated by a strong looking skyscraper, and "lust" by mounds of chocolate. "Forever" could be a shot of two wedding rings or an image of the ocean blending into the sky. Whenever you can incorporate one of these popular concepts into your photos you've maximized its effectiveness.
The use of color in your photos is also a great way to add concepts or a mood to you pictures. Red can represent love, danger, desire, speed, strength, violence or anger. Purple is associated with royalty, spirituality or nobility. Green conceptually implies nature, environment, health, good luck, renewal or youth. Yellow conveys joy, happiness, optimism, idealism, imagination, hope, and sunshine. If you search "psychology of color" or "color and moods" you'll get much more information on this subject.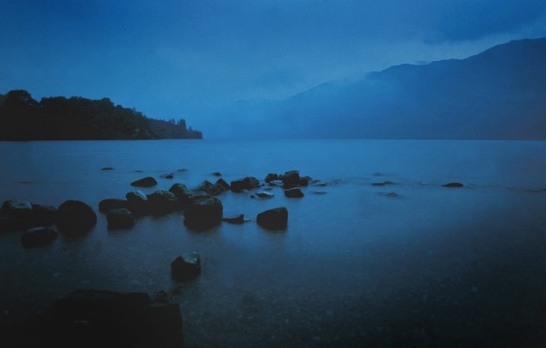 Twilight at Loch Ness
© 2011 Brad Crooks. Used with permission.
During a shoot in Scotland, I needed a shot of Loch Ness, but I was there at the wrong time of day for a dramatic scene: It was mid-day, cloudy and the natural lighting made the entire scene just look dull. To add drama to the photo, I underexposed the image and added a blue filter to the lens. The exposure made the scene look like early evening and the blue added the calm yet eerie feel to the shot that I needed.
When shooting for yourself or family and friends, you don't have to include concepts to get a great photo, but to be a successful photographer, shooting for editors, article illustration, and photography buyers, make sure to shoot in a way that will get their attention.  Think conceptually.
Written by contributing columnists Brad and Jeannine Crooks. You can learn more about their extensive photography and travel adventures at
Tripping The Globe.com
.