I have a couple of movies in iTunes that look great when I view them on my computer, but when I copy them to my new iPhone, I can't watch them: the phone complains "format not supported". How can I fix that?
The problem you're encountering is most likely that the size of the video in the video file is bigger than the iPhone can handle: it just doesn't have the CPU ooomph to be able to dynamically resize the image as you're watching something that's too big or in the wrong dimensions.
Fortunately, if you have QuickTime installed on your computer, you have the tool you need to convert your large movie into a smaller movie that's the right format for your Apple iPhone.
To show you how to do this, I used a copy of The Matrix, one of my favorite sci-fi movies. Like you, when I played mine in iTunes in a separate window, it looked fabulous. Even full-screen it was quite viewable.
But copy it to the iPhone and I also saw "Format Not Supported".
Not so good.
Going back to iTunes on the computer, I chose the film, then chose File –> Get Info. The Summary tab shows the problem: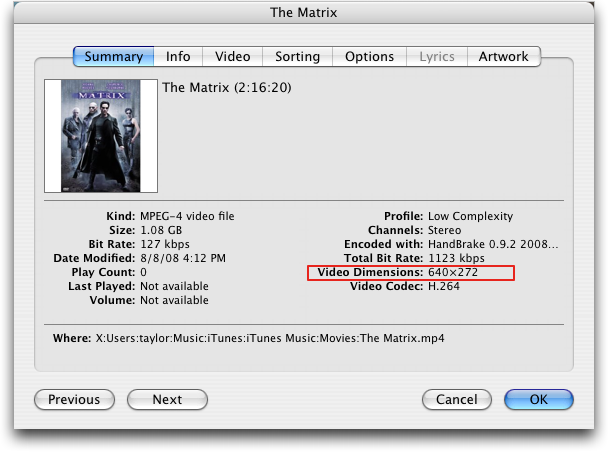 I've highlighted "Video Dimensions", where you can see that it's good dimensions for a TV or computer monitor (640×272) but not so good for an iPhone, which is 320 x 480. In a word, the video's just the wrong size.
To fix it, open up the video in QuickTime. You can do this by right-clicking (or Ctrl-clicking) on the video within iTunes, then picking
Show In Finder
, then, from the Finder, right-clicking and choosing
Open With
and selecting
QuickTime Player
.
Once in QuickTime, verify it plays (the easy part. don't get sidetracked now!) then choose
File
–>
Export
.
You'll now see this:
You want to choose "Movie to iPhone" from the "Export" pop-up (while you're there, check out all the many, many options available. Quite a powerful tool!) and I generally leave the default settings. Give the file a good name, pick a good location for it, and click "Save".
Now it's time to watch a movie, or at least get a leisurely cup of tea:
Yeah, it takes a while!
Eventually, though, it finishes up and if you want, you can double check that the resultant movie file is functional by double-clicking on the ".m4v" video file:
Or you can check the video dimensions with "Get Info" (this time, I'll show the one from the Finder, but it's the same info):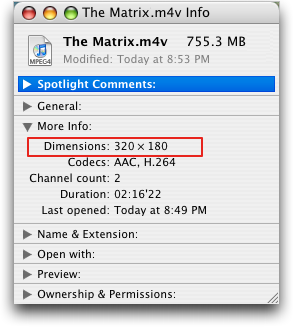 Looks good! I just drag and drop this new, dimensionally-reduced file into iTunes then sync it with my iPhone and check it out: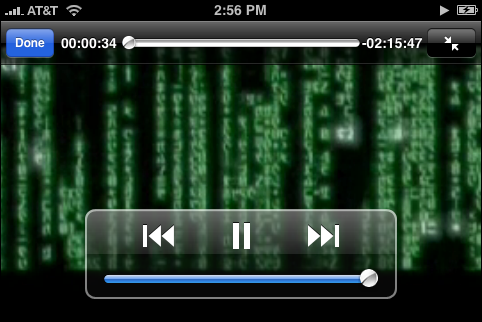 Sweet!
Now, the big question: the red pill, or the blue pill?
Tip: If you're looking for iPhone help, you've come to the right place. Just click to learn how to do everything iPhone!