My digital camera has a cool feature: it can take little movies. They're not as good as a real video camera, but my kids love mugging for me and the results are often quite hilarious. Like "America's Funniest Home Videos" caliber. How do I put them on my Apple iPhone so I can share them with my friends?
Though an initially daunting task, this is rather surprisingly easy, though there are a number of steps required. It all revolves around a little-discussed feature of the ubiquitous Apple movie player, QuickTime Player.
The first step, however, is to get the movie onto your computer which can be done by hooking up your camera to your Macintosh then turning it on. The useful application Image Capture launches, and a single click on "Download All" moves all the pictures and movies from the camera onto your computer. Easily done.
Movies, however, end up in "MPG" format, where MPG actually is "MPEG4", the Motion Picture Experts Group encoding format that's somewhat related to JPEG, the Joint Photographic Experts Group format. A typical file might be something like MOV00285.MPG, as I recently created on my Sony digital camera.
Once saved, you can open it by double-clicking the file. If QuickTime Player isn't launched, Ctrl-click instead and choose "Open With –>" and then choose QuickTime Player instead.
Choose File –> Export for Web… and you get a very interesting list of output file format options:


There are three different output formats you can select, two of which are specifically customized for the iPhone itself. The first is for when the Apple iPhone is using wifi and has a high-bandwidth connection. The second is for the clunkier EDGE network, which just doesn't have the speed capabilities. Of course, both of these are intending that you'd watch the video from a Web host on your iPhone and we're talking about actually copying it onto the phone itself, so we'll want the higher bandwidth option.
Finally let the app know which "key frame" to use (e.g., the image shown when you
aren't
playing the movie, just looking at the file) and click "Export'.
Anywhere from a few seconds to a minute or two later, you'll have a new file in the output folder (mine is my Desktop, yours might be configured different) that has the same name as the original MPG file. In this case, it's MOV00285 and here are its contents: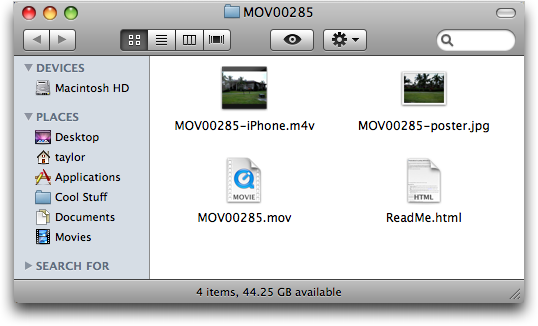 Almost done.
The last step is to drag the ".m4v" movie file into iTunes, where it'll promptly be filed in "Movies". You can see I've done that here (top right):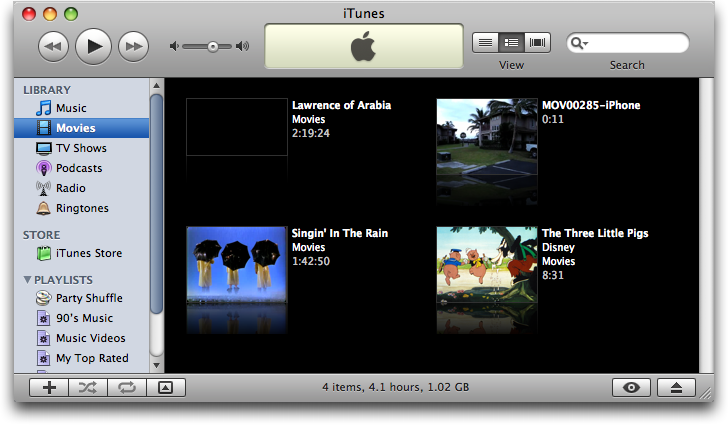 That's really all you need to do. Next time you sync your iPhone, the movie will be copied if you have already selected "automatic sync" with your movie lib. If you haven't, drag the movie icon within the iTunes library to your iPhone next time you've got it plugged in and… voila!
That's all there is to copying your movie to your Apple iPhone. Hope that helps you – and your friends – out!