I got a text message from AT&T telling me that I can now connect my iPhone up to the AT&T wifi network at Starbucks for free. Nice, but I've heard it's convoluted. Can you document it so I know how things should proceed?
Happy to help out, and yes, in advance I will tell you that it's not as easy as tapping a button and being online, but when compared to the extraordinary hoops you have to jump through to connect to the AT&T wifi network with a Starbucks card it's not bad. 🙂
One thing I didn't realize until I was actually in a Starbucks, however, is that just because you are paying through the nose for an AT&T cellular data connection with your phone, that doesn't give you a full attwifi account with any computer. Might sound a bit dim, but I thought "cool, I can use my phone to enable wifi access with my laptop". But I was wrong.
The text you probably received from AT&T looks like this: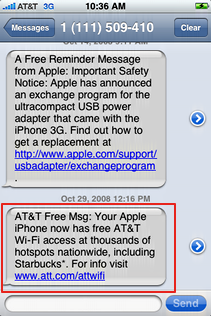 I've highlighted the message in question, and sure enough, if you simply click on the link it'll take you to a page that explains how to connect. But let's assume, like me, you'd rather just try thing than read about them!
Your first step once you're in a Starbucks is to turn on your iPhone wifi (if you don't already have it on all the time), which can be done by clicking on the "Settings" icon,: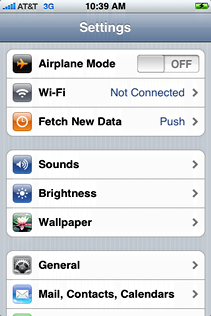 Now click on "Wi-Fi" and after a second or two you'll see: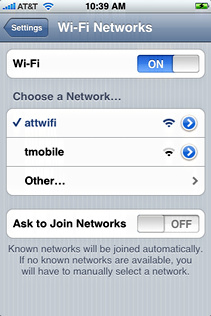 Choose "attwifi" and go back to the main menu.
But you're not done.
Now go to "Safari" and, using a bookmark, refreshing the page you're looking at currently or typing in a new URL directly, go to somewhere on the Web.
The wifi network will intercept your request and drop you on the page that requests your Apple iPhone number: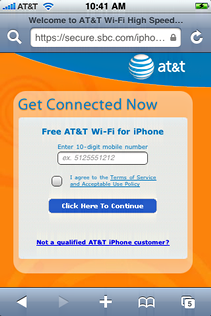 Enter your phone number (though why it can't auto-detect it I'm not sure) and agree to the terms of service by checking the box, then click on "Click Here to Continue"…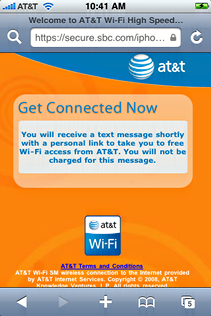 Tick, tick, tick. A few seconds pass (it took about five seconds for me) and you'll be notified that you have a new text message: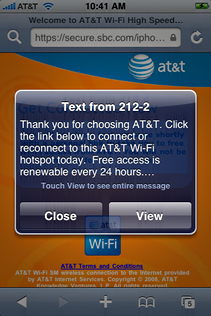 Click on "View"…


All that's left is for you to click on the actual blue URL shown in this text message and, congrats, you're now online:


That's all there is to it. Looks complex, but I think that once you get the hang of it the entire process will take about 20 seconds.
Now if I could just use the iPhone as a data connection device with my laptop we'd really be talking… !

Tip: I've had an Apple iPhone for a long time, and have a ton of free iPhone help here if you poke around.