I occasionally go to very hip, trendy nightclubs here in Los Angeles and really want to "check in" to them on Facebook so that my friends can see that I'm at the cool party, the favorite club, etc. Can you give me a quick tutorial on how to use Facebook Places to check in so I can do so even in the jostling of the bar or the dance floor?
Really? You're going to party at a trendy nightclub and then be geeking out with your iPhone on the dance floor just so your friends can be jealous? OOOkkkaaayyyyy…. But then again, maybe what you meant to say was "while I'm standing in line for my favorite club, how can I check in to Facebook Places"… 🙂
Anyway, Facebook's iPhone app is definitely getting better as they keep tweaking it, but the Places stuff is pretty confusing, and, worse, you need to enable location services for the Facebook app on your phone before it'll work anyway. I actually have an article about that you should read first: Why can't Facebook Places find my location on the iPhone?
Got that set and you're back? Great.
Now, here's how to check in to a place or venue on Facebook: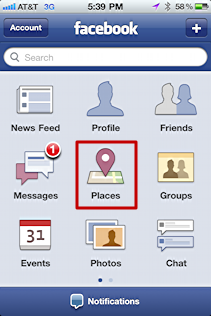 Start by tapping on the "Places" button in the middle of the iPhone app, then you'll be shown a list of your friends and where they've recently checked in: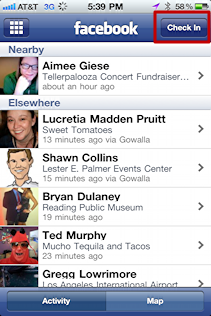 The most important thing on this screen, however, isn't your friends — at least, not for this task! — but the "Check In" button tucked into the top right corner. Tap on it and Facebook will start trying to figure out where you are and what's around you: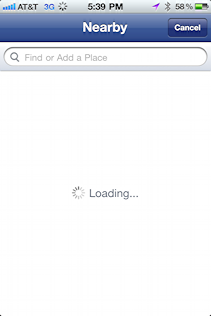 After hopefully just a second or two it'll show you the matches: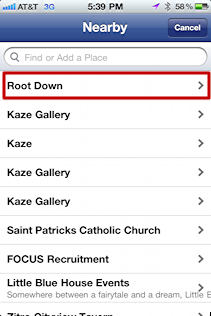 It's a sloppy list with lots of duplicates but for this demonstration, it still shows the trendy restaurant I was at when I captured these screens,
Root Down
. I tap on it to select it and…
Probably because they have never seen this particular view, Root Down has a graphic that requires me to swipe downward to get to the bottom of this screen. Usually graphics are smaller and more rectangular and you'd see everything without any further effort. Here's a more typical Facebook Places checkin, for the fun
Celestial Seasonings factory
, as a different example: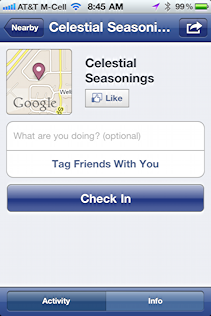 Anyway, tap on the "Check In" button and you'll see that you're now listed as someone in that particular location on Facebook: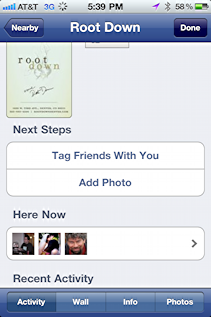 Mission accomplished! Now, put your phone away and go have some fun!