My friend just had her Yahoomail account hacked and I am afraid mine might be next. How can I change my Yahoo Mail — or Yahoo — account password?
With our focus on fancy new social media and Web-based services, sometimes we forget to pay attention to the older services that have millions of members, like Yahoo. Fact is, we're still big fans of various pieces of the Yahoo online empire, though when I checked my own Yahoo Mail account, I was startled to see unread mail in my inbox that was more than two years old. Ooops.
Still, there are a lot of people who use Yahoo and it's a sure thing that it's a popular site to spoof for people trying to use phishing scams to steal your account credentials, as happened to your friend, so it's a good idea to change your password on a regular basis. More importantly, it's important to have a good, complex password that's not your name, your dog's name, or a word found in the dictionary: they're all really easy to crack.
To change your Yahoo password — which is the same whether you're using Yahoo Mail or not — you need to log in, then go to your home page to get started. Look on the top right:

See where it shows my name, cheerily saying "HI, DAVE"? Move your cursor over that spot and you'll get a pop-up menu:
At this point you can play with changing your color scheme, but stay focused! Instead click on "Account Info" to get to the area where you can change your password.
Yahoo will ask you to log in again, because it'd be a disaster if you stepped away from your computer for a moment and while you were there someone changed your password!
Assuming you have successfully entered it this second time, you'll now see a lot of information about your account, and a bit lower down, security options:
Again, some interesting things to explore like OpenID, but click on
Change your password
to proceed.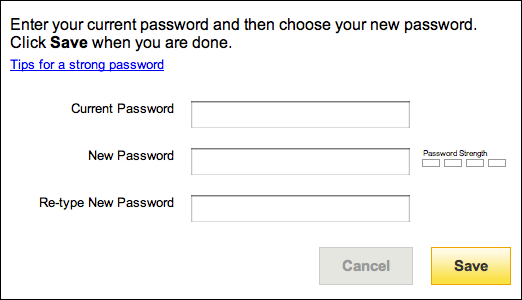 You can see that you'll need to enter your password yet a third time. They're serious about not having someone monkey with your account!
Passwords are best when they're a combination of numbers, punctuation, upper and lowercase letters, and Yahoo will remind you if you pick a crummy password:
Surprisingly
hi
turns out to be a bad password. Who knew? When I enter something more complicated — and longer — it gets happier:
Very Strong = very hard to guess, so that's a good thing. Aim to accomplish that yourself and as long as you don't share your password with anyone and avoid responding to emails about the need to "verify" your account or "update" your records, you should be good to go!