My son was playing around with my PC and now it goes to sleep after just a few minutes if I am not using it actively. It's driving me crazy! How do I reset it to a normal setting?
I know what you're talking about here, I've seen laptops set to shut down their screens in just three or four minutes and/or go to sleep in less than ten minutes. It's not good, not at all! This is easily adjusted, but it's not where you may think. Yes, you need to go to your Control Panels, but there's no "sleep" or "energy" option.
In fact, you need to go to START –> Control Panels then go to Power Options, of all places, where you'll find: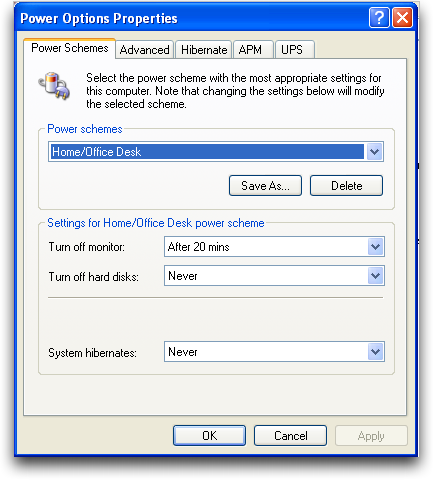 That's where you can make the primary adjustments. In fact, now that we're talking about it, I'll bet that your son just changed your "turn off monitor" setting and that your computer is still running, it's just your monitor that's shut down. As you can see, I have the default setting of 20 minutes for the monitor sleep, though you can extend it if you'd prefer.
If you don't see "System hibernates", that's because you haven't enabled the hibernation feature, which is accessible by the
Hibernate
tab. I'd be a bit cautious about that feature, however, especially on a laptop, because I have heard some reports that it can cause some data corruption.
By the way, be alert that many people also end up setting their monitor sleep time to be shorter than their screen saver time, which means you never get to actually
see
your screen saver, even if it's a commercial one! The way to adjust that is to go to
Display
in the Control Panels, and then click on
Screen Saver
. It looks like this: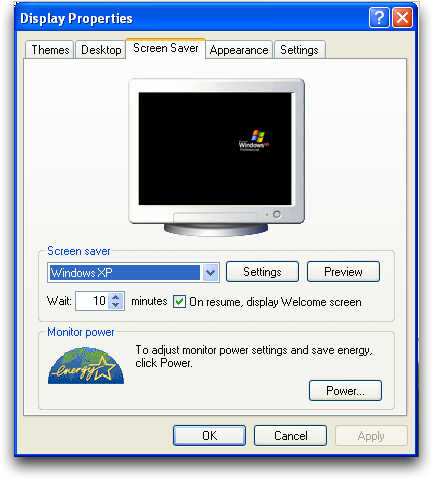 Here you can see that I have a ten minute delay before the screen saver kicks in, and then ten minutes later my display shuts off completely. You might adjust yours differently, but that's one way to set things up.
Hope that helps you restore your computer to normal functionality. Next time, give your son his own account in Windows and you won't have to worry about this again.