I'm paranoid about passwords and now that there are more stories of password and account data circulating I want to change everything! But I can't figure out Skype. How do I change my Skype account?
Whether or not your account information was snagged in the latest round of hackers breaking into sites and stealing account information, it's still a good idea to sporadically change your passwords anyway. Just because.
Skype is a tricky one, though, because there's the Skype web site and there's also the Skype app you have probably downloaded and installed on your computer. Fortunately, with a bit of digging around, you can change your password in either place.
On the Web site, simply log in and click on "Account" on the top right:

Underneath the rather huge advert for their paid telephony options, you'll find your account information and settings:

Click on "Change Your password" in the lower left corner and…
As I said earlier, though, you can also change your password within the Skype application itself if you know where to look. You can't click on "Account" in the Skype app window, you need to find the correct menu option: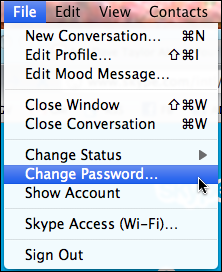 Once you select "Change Password…" however, you'll get here:
Now that you know, there's no excuse not to hop on and get that change implemented ASAP! Btw, remember that a good password should have upper and lower case letters, a digit or two and some punctuation. "fido" isn't a good password, but "4MYf!d0" sure is.