Am currently in the uk and here the domain for gmail account is @googlemail.com. I recently created a gmail account and i was wondering whether theres a way to change my address from username@googlemail.com to username@gmail.com? I know that whether you write username@gmail.com and username@googlemail.com get delivered to the same inbox..but still want to change the domain of my email add! :))
I never realized that "googlemail.com" and "gmail.com" were functionally equivalent. Cool! 🙂
Now, on to your question. Yes, in Google Gmail there is indeed a way that you can set your "from" address to be what you desire rather than the default for your particular configuration.
Log in to your account, then click "Settings" on the top right, then click on the "Accounts" tab. You'll see this:


I'm guessing yours indicates "@googlemail.com". Click on "edit info" and you'll find that you can actually change your return name (very helpful) and email address: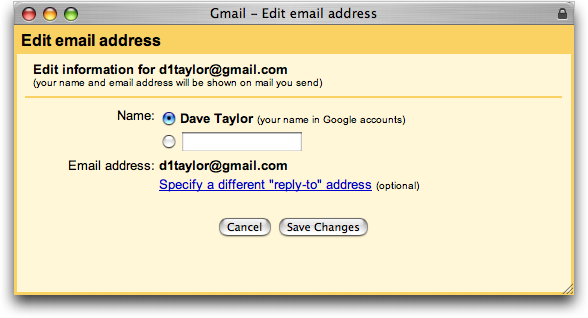 If you'd like to change your name while you're here, just enter a new value and click on "Save Changes". To change the email address, click on the link "Specify a different 'reply-to' address" and you'll see: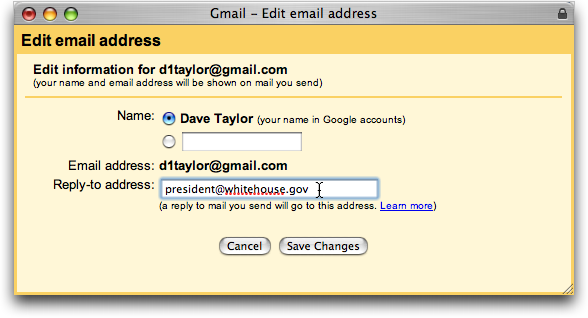 Ah, as you can see, you can change your "Reply-To:" address, but in fact you cannot change your "From" address here in Gmail. (Further, I am not seriously suggesting that "president@whitehouse.gov" would be a sensible return address for your email. Especially if you're in the UK! 🙂
What you can try, however, is to add a completely new email address and specify that as the default address. Back up and click on "Add Another Email Address", and you'll see: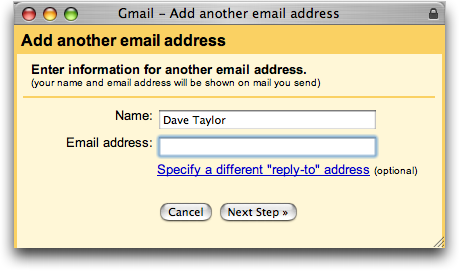 Now enter the @gmail.com address to override your @googlemail.com address and click "Next Step".
Smack! Right into a brick wall: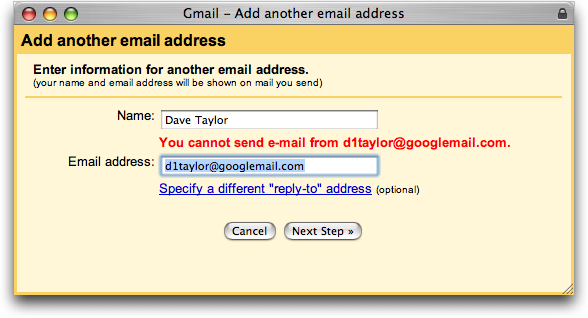 So, indeed, it appears that the answer is that you
cannot
pretend to be with the gmail.com side if you're hooked into the googlemail.com side.
Oh, there is one solution. Fly out here to the States, set up a regular Gmail account for yourself, then use that when you're in the UK instead. A bit expensive as a solution, but I imagine that Google is using IP location services to put Europeans on googlemail.com while us folk here in the States get gmail.com instead.