I saw your article of a few days ago about changing the Mac user account. You set up an account for "James Bond" and accidentally didn't use Daniel Craig's photo, even though you commented about "the one true Bond". Weird. Anyway, how did you set that picture?
Let's start with some film commentary. While I do think that Daniel Craig is a good, albeit thuggish, James Bond, and that he's better than either Pierce Brosnan or Timothy Dalton, and he's certainly less goofy than Roger Moore, who always had a hard time keeping a straight face and not grinning like, well, an idiot, I don't think he beats Sean Connery.
This is a controversial issue I realize, and there are a couple of ways you can think about the optimal Bond actor. Certainly Ian Fleming was British and was writing adventure books for boys, with fast cars, gorgeous women and ominous adversaries. Wait, that's kind of like my life, now that I think about it. 🙂
Anyway, what were we talking about? Oh yeah, having read most of the Bond books, I always pictured James Bond as suave, handsome, loaded with charm and charisma, and with a dangerous edge and no qualms about killing bad guys or exploiting a situation for the benefit of England. Does Daniel Craig embody that? I think he's very good at being dangerous, but I just don't see him as particularly suave or charming. There were scenes in Casino Royale that were rather embarrassing because he was such a "blunt instrument", as M. said in the film.
Sean Connery, on the other hand, was — and still is, in my opinion — handsome, charming, sophisticated and dangerous. The perfect Bond. To me, at least.
But back to the technical question!
When you're looking at the specific information for an account in the System Preferences… –> Accounts window, recall that it looks like this: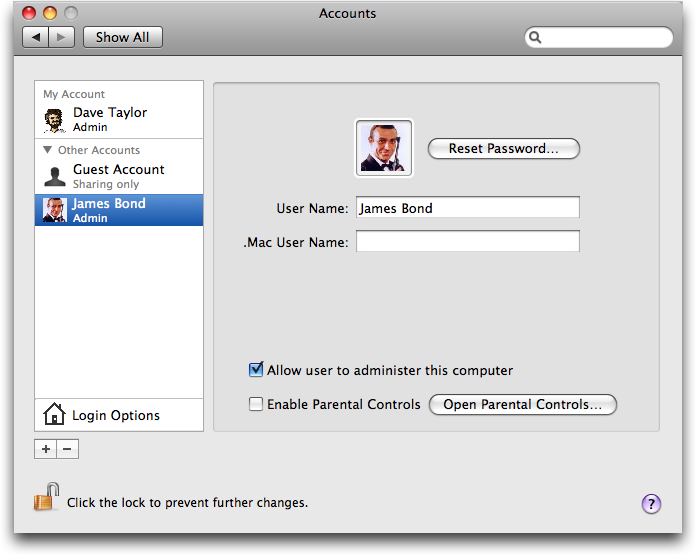 To change the picture, the easiest approach I know is to open up a Web browser window and use something like
Flickr
or
Google Images
to identify the new profile pic you desire. I'll show you how to change the Bond account to Daniel Craig's picture by way of illustration.
I do this by going to Google Images and searching for "Daniel Craig Bond". The results are:


Now move the windows around so that you can see both the image you want to use in your Web browser and the login window, and
simply drag the image from your browser to the existing image in the Accounts window
:


Notice that a green "plus" symbol shows up with the cursor as the box is dragged across the screen. That's good. Once you let go of the mouse button / trackpad, you'll now see the modify profile picture window:


Now you should use the slider to zoom in on just Daniel's face, then click and drag to move the picture around behind the 'visible box', until you get it just right:


Once everything's good, click on "Set" and you're done! Pretty easy, I'd say.