I just read about a security breach at LinkedIn that's apparently exposed millions of passwords to hackers. That's a problem, to say the least. How do I quickly go and change my password to ensure that no-one hacks into my LinkedIn account?
You're right to be concerned. As reported at The Next Web, apparently some Russian hackers got ahold of 6.5million "hashes", which is to say encrypted passwords. So it's not "doggy" in the file, but something more like "BUIOPFREND". But with some time and a smart program, they can certainly identify accounts with passwords that are dictionary words like, alas, "doggy". If your password is more complicated — and it should be! — then you probably don't have anything to worry about, but still, it's smart to change your password after hearing of a security breech of this nature anyway.
Just remember the rules for good passwords: upper and lower case mixed, a digit or two, and a punctuation mark. So "doggy" is a terrible password, but "4DOGguy:)" is a terrific one that's just about impossible to crack and is only going to be hacked if you fall for a phishing scam or someone's monitoring the data network you're using, looking for passwords. It's also a good practice to change your password regularly and not use the same password on a lot of sites. Which, yes, is a pain. Hence the benefit of password management applications.
Let's focus on LinkedIn passwords, though, as that's so timely. Log in to your LinkedIn account, then look on the top right:


As you can see, you want to select "Settings" from the menu that pops up under your name.
LI will want you to confirm your account password (so someone else doesn't monkey with your settings while you're away from your computer for a minute or two!)…
Once you've entered your credentials properly you'll see a ton of options. Look on the lower section and click on the "Account" tab: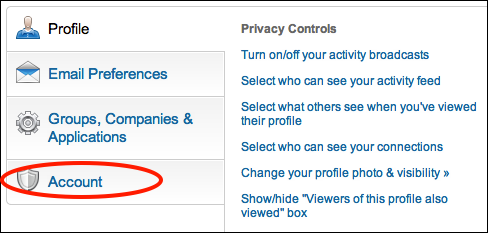 Account settings on Linked In are pretty dense, but what you seek is on the top right of this area: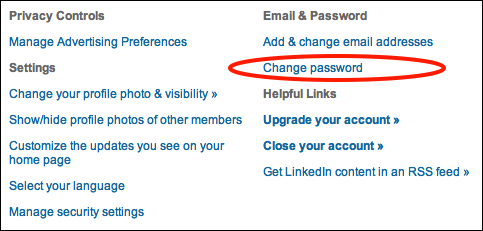 Click on
Change password
and a window will pop up asking for your old and new password: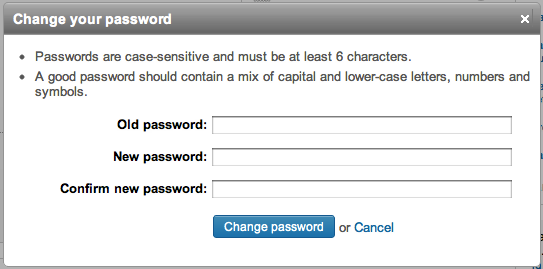 Enter your old password correctly one more time and enter a new password twice (and remember my handy tips for a good password, above!), click on "Change password" and…

Done. Safe.
*phew*
While we're at it, another security suggestion for Linked-In: did you notice on the "Account" tab the setting for
Manage security settings
? Click on it.

I don't know about your usage of LI, but I never use any of the apps so I checked this box. It's one more way you can improve the security of your account, and it's a smart step to take.
Now, hopefully, we won't hear too many stories of people who didn't take these necessary precautions and got stung by the hackers in this situation!