To get started with Google Plus I grabbed an old photo of myself, but I want to update my profile picture now on G+. What's the fastest way to do that?
I keep alternating between my cartoon image (see above) and a photo of myself, so I know what you mean. The default image when you sign up for Google Plus is the photo you have put in your Google Profile, and it turns out that you can travel down that road to easily change your photo too.
Then again, Google Plus is still clearly being evolved and improved, so I have no doubt that there'll be a better, more sophisticated profile editor coming pretty soon, so these instructions inevitably have an expiration date built in. If it doesn't work, well, let me know and I'll update things!
Now, there's more than one way to get to the point you seek, but I'm going to use the Google account profile area to change my own photo.
Log in to your Google Plus account, then look for the information strip along the top right of the screen:


Click on your name and look for the entry "Account Settings":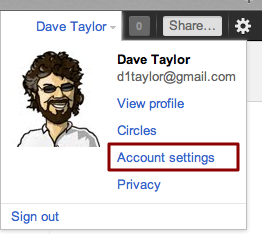 Select "Account Settings", then choose "Edit profile" from your "Account overview", as shown:


On the left side of this page, you can see my current profile picture. Not too scintillating, though it's obviously visually consistent branding with this blog. Still, let's update it to an actual photo since that's more appropriate for a social network.


Click on "Change photo" just under your profile photo and…


I already have the target photograph on my computer, so I'll click on "Upload", but if you already have the photo in your Google Photos (aka Picasa) account or it's one someone else tagged you in, well, you can see the other options here.
I click on "Choose File" to pick the image I want to use and a standard file selection window pops up:


Conveniently enough, the image I want is mnemonically called "Best image, scaled.png" so I select it, then click on "Choose".
The file is then uploaded to the Google server:


After a second or two I'm shown the photo with a crop box:


As you can see, it did a reasonable job with its guess of where my face is in the image, but I can tweak things a bit to have a better display.
And a photographers tip here: don't worry about cutting off the very top of your hair in a profile pic. In fact, it's a good effect and can reduce the "big forehead" effect a bit too.

Don't like the photo so much? Cancel and upload another one, or try out some of the slick online photo editing tools available through Google Photos by clicking on the tiny "Edit photo in Picasa" link just below the image.


I'm fine with the image so just click and drag the selection squares to make the highlighted box a bit more inclusive from the image. Again, notice that I'm cutting off about 30% of the hair on the top of my head here.
When I'm done, I click on "Set as profile photo" (the blue button on the lower right) and…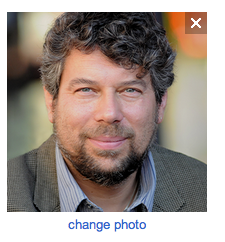 Looks good! And my friends get a notification that I've changed my photo too, in a typical Google Plus way:


So there you have it. Easy and rather fun way to change your Google Plus profile photo as desired.