I hope this isn't too basic, but I want to get a step-by-step tutorial on how to change my account password on Facebook. I suspect my wife's been checking out my account, so I'd like to just update my passwd so I can eliminate that concern…
First off, changing a password does not address a marital issue, you know that, right? If you're having some trust issues with your spouse, I suggest that a candid conversation would go a lot further than changing an account password on your computer, but then again, if that's what you want to do, I'm happy to show you how to change your password on Facebook.
Frankly, considering it's one of the most basic rules of security — changing your password with some frequency — it seems like it should be right there on the main menu so you don't have to hunt for it. But then again, we've already established that I'm not on the user experience team at Facebook, so…
Right!
On with it!
To change your Facebook account password, click on the triangle on the very top right of any page on the site (once you're logged in). You'll see a menu like this: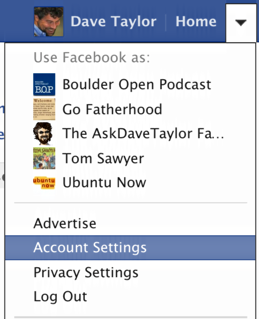 You can see that I'm an administrator of a number of different Facebook pages. Below that is what you want to selection: "Account Settings". Here's where it's a bit confusing, actually: couldn't your password also be considered a privacy-related setting?
Once you select "Account Settings" from the menu, you'll be at General Account Settings: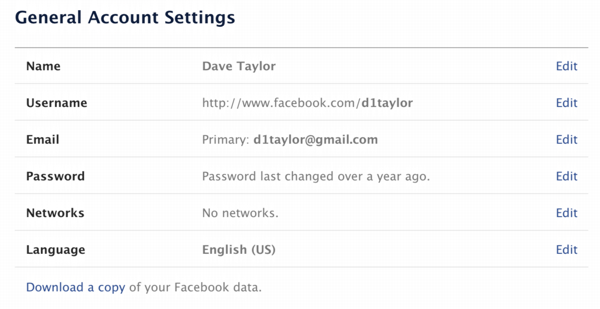 Note
Download a copy of your Facebook data
. It's a smart idea to do that every 3-6 months as a simple backup of your posts, photos, messages, etc. Just squirrel it away in a folder somewhere in your Documents or My Documents folder and forget about it.
To change password, click on the "Edit" link on the appropriate line. You'll notice that I've been a poor security-conscious user, not changing my password in over a year. Yikes!


As you would hope, it requires knowledge of your existing password to change to a new password on Facebook. Without it anyone who could swoop into your account for 60 seconds could lock you out. Not good.
Enter your old password and a new password. My standard recommendations for passwords applies here: upper case + lower case + punctuation + one or more digits. A password like "martha" is awful. A password like "I<3Martha!" is great, though. Click on "Save Changes" and your password has been updated in the Facebook system. If, like me, you're logged in to a bunch of different places due to mobile devices, etc, you'll see this message:

My recommendation? Log out of everything, then practice entering your new password by logging in again on your smartphone, iPad, desktop, etc.
And now you know. Oh, and good luck with your relationship issues…