Today Facebook formally introduced @facebook.com email addresses for everyone on the service. All 900million of us. And then automatically set all of those addresses to be publicly visible on the timeline. If you read this blog, however, you already knew how to set that default address to be private – as mine is – but in case that isn't the case, here's how to fix it…
If you're using Facebook I don't need to tell you that you need to be constantly vigilant about privacy as they keep changing things. That's their right, of course, as they have no guarantees or promises about things becoming more stable over time, but the latest has a lot of people rather surprised nonetheless.
What happened was that Facebook has been working towards having your Facebook mailbox be accessible from outside of the Facebook universe. And if you've set up a shortcut URL — see Set your Shortened Facebook URL for help: what works for fan pages works for personal pages too — it automatically uses that shortened URL as the basis of the email address.
Mine is set to d1taylor @ facebook.com but honestly, I don't really want you or anyone else to use it. I think Facebook has a miserable email system and the last thing I want is to get more email there. So don't test it, okay? 🙂
But let's see how to ensure that you have it set to be private on your own Facebook account settings so you can make that decision for yourself. Ready?
Start by going to your Facebook newsfeed page, then click on your own name on the top left. I'd see this: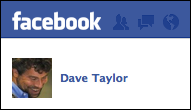 Once I clicked on it, I'd see my own timeline. On the left are some highlights and a critical link:


Click on
About
underneath all of your info and it'll take you to a page that summarizes a lot more about you, with edit buttons available. The section you seek is on the lower right, a bit of a scroll down, labeled "Contact Info":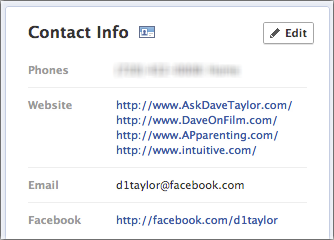 You can see my Facebook email address here too. Okay, thanks for yet another email address, Facebook. Not sure I wanted it, but hey, free is good, right?
Click on "Edit" and it shows all of your email addresses, with visibility information and whether or not it shows up on your Timeline:



My @gmail address is marked for "only me" and hidden from my Timeline, and so is my @intuitive.com. That's good. But the new Facebook address? The globe icon indicates that it's visible to everyone (globe = public) and the open circle adjacent indicates it'll show up on my Timeline too. Bah. That's not what I want and probably not what you want either!
Click on the globe icon and a bunch of options show up:



You can leave your address public, but my recommendation is "Only Me", which effectively hides it from anyone and everyone.
Pick the one you think is most appropriate for your own social graph and move to the bottom:



A click on "Save" and you're back to having some privacy from the exciting world of spammers. Imagine, you check your Facebook account and there are a hundred spam messages in your inbox, and mixed somewhere within them is a nice message from your ex for whom you still have a little flame flickering. Horrible. Time to fix it soonest, I say.