I'm really enjoying working with the new Windows 8 interface, except it has a bad habit of showing the weather for my current location on the start screen, and I'd prefer it show the weather in Bora Bora, where I'd rather be working. How do I either change which city or location it's using for weather or add additional cities to the list?
Bora Bora? Nice. Yeah, I need to work there too. Maybe we can share a beach. 🙂
You're right that like many modern systems, Microsoft Windows 8 has a lot of built-in smarts, and sometimes they rather stumble over themselves trying to be useful. It's slick to have the local weather always display even as you might travel on business or otherwise move around, but if you'd prefer to have a fixed city or two, well, it's time to learn a bit more about how Win8 works to get this fixed.
Remember, this ain't your mama's Windows interface with that start menu. Ya gotta learn some new tricks.
So let's do just that!
Start with the Start Screen and as you can see below, I'm getting the weather for Boulder, Colorado, where it's a chilly 32F:


That's a temperature that's a looonnggg way from Bora Bora, for sure! In fact, the current weather there is 88F and thunderstorms. *sigh*
Click on the weather button and a full-screen detailed forecast appears:


It's really hard to figure out how to go anywhere from here, however, because the inclination is to look for a subtle tap or click zone. There isn't one. Instead, right-click and rather than have a menu appear as you'd expect, something entirely different occurs: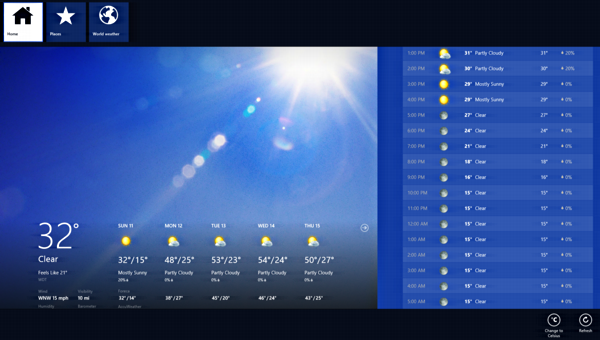 Looks very "tablet", doesn't it? On the lower right is "switch to Celsius" if you prefer non-Farenheit temperatures, but it's the buttons along the top that we want to focus on. Here they are, a bit bigger:


We'll peek at "World weather" at the end, but for now, click on "Places" to see what you have configured and learn how to add additional locations:


Add a new city — Bora Bora in your case, Mumbai India in mine — by clicking on the black box with the ~ez_ldquo+ez_rdquo~ within.
It now prompts you to enter the location name, and does the usual pre-fetch so you usually only need to enter a few characters. I entered "mumb" to get here:


"Mumbai, Maharasthra, India" is the match I want, so I'll click on "Add".
Now it's another location and I can get full-screen weather as easily as just tapping on it in my Places menu:


To change it to the default weather display on the Start screen is a bit more tricky, however. On the screen where you can see all the cities you've specified, right-click on Bora Bora (or whatever city you want to have as the default) then, on the lower left, choose "Set as default". If you want more than one city's weather on the Start screen right-click on each city and choose "Pin to Start".
Or, for a change of pace, click on "World weather" instead and you get a very nice world map with a set of alternating city forecasts from around the globe: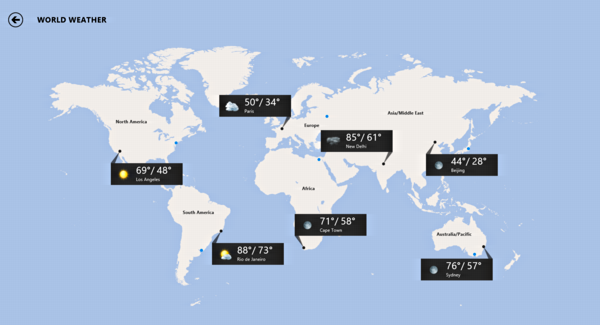 Handy to see global weather trends, though neither Bora Bora nor Tahiti show up directly so you still might be stuck having to establish them as Places.