Rather to my surprise, I found out through a stray email that my son had signed up for a MySpace account. He's 11 and he doesn't have permission to do so. As part of his punishment I am going to delete his account and since it's just a few days old, I'm wondering if I can simply ignore it and have it go away or if there's something special I need to do?
As a parent, I can totally sympathize with your situation. It's easy to sit on the outside, as a non-parent, and say either "let them do what they want" or "you need to supervise them more closely" but neither are really foolproof. A pal of mine, for example, was surprised to find that his daughter had snuck into the Apple store one time when she was shopping with her friends and signed up for a Facebook account on one of their public computers. Smart. But not okay.
My kids have also pushed on these limits a little bit, with Twitter and MySpace accounts, but since their ability to use the computer comes with the understanding that I retain the ability to sporadically peek into their Gmail accounts, I know what's going on pretty well and they're good kids, so it's not like they put huge amounts of effort into covering up their tracks. (yet!)
Anyway, when my daughter signed up for a MySpace account without permission, I remember finding out because I saw she'd received a message with the subject line of "MySpace Account Confirmation". Kind of hard to hide!
Within that message were the lines:
If you did not create this account, you may cancel it by clicking here in the next 14 days:
http://profileedit.myspace.com/index.cfm?fuseaction=accountSettings.cancelAccount
When I clicked on the above link, it required me to log in to her account. Fortunately her account name and password appeared earlier in the same email message. Once logged in, here's what I saw: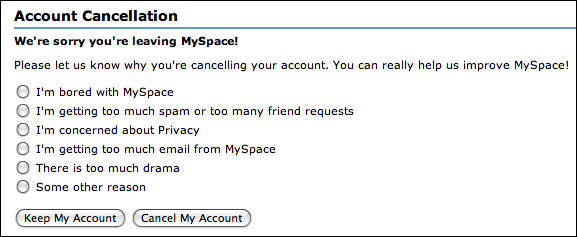 While I was tempted to answer something goofy, I decided that getting through this quickly was a better goal, so i chose "Other" and clicked on "Cancel My Account".
It then tried to convince me to stay by reminding me of all the cool ways I could get more into the MySpace community: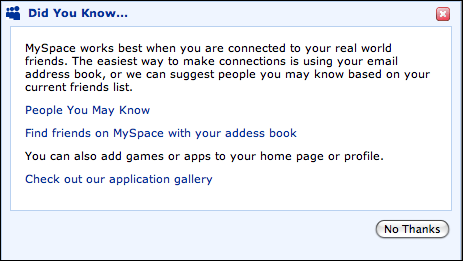 No, really, i want to cancel the account. I clicked on "No Thanks" and sat there for a minute, without anything happening. Then I realized, I needed to click on "Cancel My Account" a second time. Now it went to: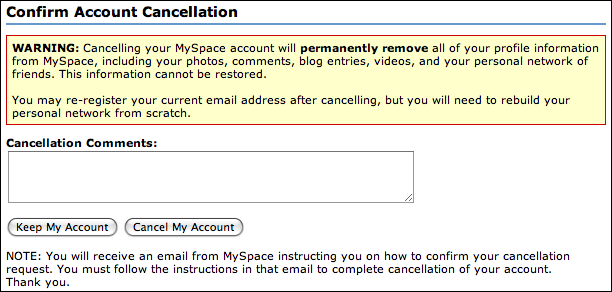 The important thing here is the small print on the bottom of the page: "NOTE: You will receive an email from MySpace instructing you on how to confirm your cancellation."
I clicked through and got here:

Apparently I had to log in to my daughter's email account again. This time I found an email message with the subject line "MySpace account cancellation request – please confirm", within which was contained:

I clicked on the link (yeah, by this time I was getting a bit fed up) and got back to MySpace, this time asking yet one more time if I really, really, really want to do this: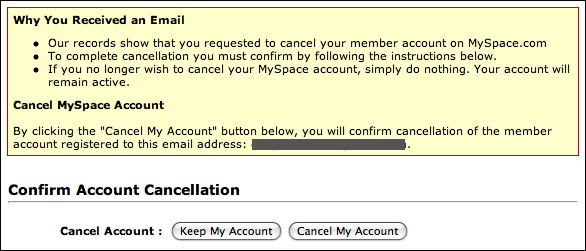 I really did, so I clicked on "Cancel My Account" and, finally!, got here:

Phew! Quite an ordeal but mission accomplished!