On the advice of a colleague, I grabbed a whole bunch of Twitter account IDs "for the future". Secretly, I was hoping I could sell some to large corporate vendors, but in retrospect that seems stupid and I just want to push them back into the pool of available IDs. How do I cancel or delete a Twitter account, though?
Congratulations on your enlightened attitude! If more people were focused on their own business, not buying up intellectual property rightly owned by a different firm with the hope of making some money through scalping, squatting or similar, the Internet would be a far different place.
It's interesting how difficult some modern sites make it to cancel an account, actually. It's almost like they don't want to see you go (which might well be something to do with inflating user numbers, but i wouldn't accuse any sites of having huge numbers of users through gaming or manipulation. Would I? 🙂
Twitter is somewhere in the middle: there is a "cancel my account" link, but it's not particularly easy to find. Then again, for the vast majority of users, it's not something they want to do anyway.
Okay. So here's what you do! First, log in to the Web interface to Twitter and look on the top right. You'll see:


Click on "Settings" and make sure you're in the "Accounts" tab…



Now scroll down to the very, very bottom and you'll find a wholly unremarkable link on the left side: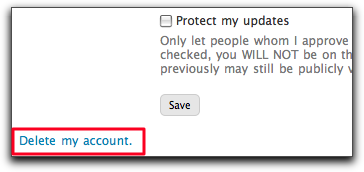 Not too hard, really. Now, click on "Delete my account" and…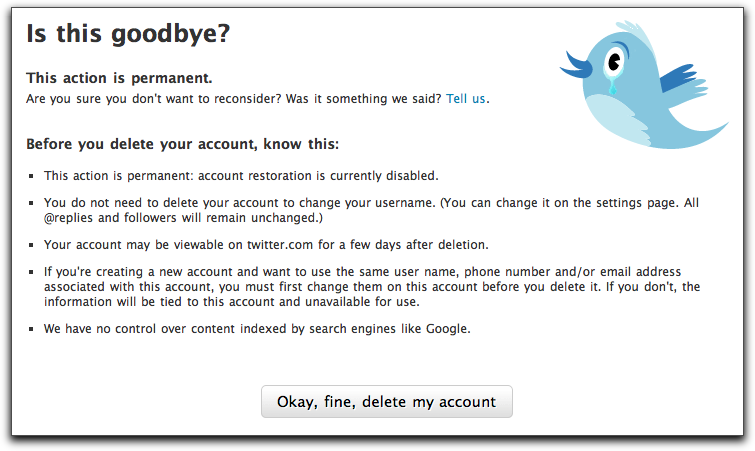 No, really, I really do want to cancel or delete my Twitter account, guys, I'm not just experimenting, but really want to do it.
To prove it, I read all the small print and commentary above, then take the bold – and irreversible – step of clicking on "Okay, fine, delete my account".
Next thing you know, you're on the Twitter home page and your account has been deleted and the Twitter ID you had is back in the available pool.