I'm finally ready to say goodbye to my AOL account after a ridiculous number of years wasting money on the subscription. But they sure don't make it easy. How do I cancel my AOL (America Online) account, Dave?
It's amazing. I wrote about this very topic six years ago on this blog, in an article entitled How do I cancel my AOL Account? and it's still a popular topic that people are asking about. Then again, after AOL covered the entire Earth with millions of CDs offering hundreds, then thousands of hours of free Internet access, perhaps it's not a surprise that there are still so many legacy customers.
All those years ago my advice was to just pick up the phone and call them to request the account be cancelled. If you read the astonishing number of comments on that article, you'll see that there are different 800 numbers to try, different phrases to use that speed up the process, and many people who related that they cancelled and were still being billed months later. Yikes.
This time I thought it'd be interesting to try and cancel an AOL account through their Web-based interface, as they've done a splendid job of creating a completely Web-based interface to the service at aol.com. The results? Rather mixed…
The first step is to log in to your America Online account on the Web interface. This is done with the tiny "Sign In" link on the top right corner:


That gets you to a standard login & password form: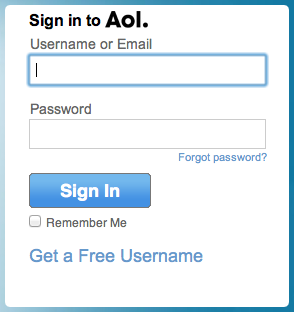 Logged in? Good, now here's the interesting part. To get to your account settings you have to scroll to the very, very bottom and find the almost completely hidden link "My Account":

Other sites have this front and center, but America Online has apparently decided that's the last thing we users would want to access if we're logged in to the site. Not sure what that means, but I can certainly be a bit skeptical of this particular interface decision!
Click on the "My Account" link and you'll need to enter a security question to ensure you're actually the account holder, which is good, you don't want someone jumping onto your account and changing things while you're in the bathroom or on the phone for a few minutes!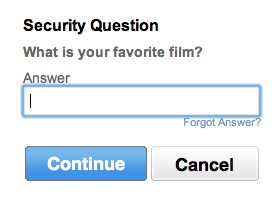 There are a lot of things you can tweak, but since the goal is to cancel your AOL account, you'll want to "Manage my Subscriptions", which brings you to a page that shows you exactly what you've signed up for currently: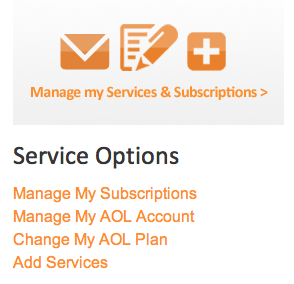 Finally, here are the options for different subscription packages, most of which sound rather obsolete a decade into the 21st Century:

Mine shows $0.00/mo, but AOL was still billing me $250/yr (e.g. $21/month) for this account, so one way or the other, I wanted to cancel it. To do that, I clicked on the link "cancel", which revealed…
So there you go. With all the fancy online options, it still comes down to a phone call with a call center employee in India or some other far-flung place. At least when I called and said I just didn't need the account they cancelled it for me (and switched me to a free account) with just a few minutes of attempted upsell.