If you haven't heard of Steam by now, it's time you learned! Steam is the largest online distributor of PC games in existence – a massive boon to PC gamers worldwide, and with the Christmas season upon us, your source of easy gifts for your family keyboard warrior.
In 2003, Valve Software, creators of Half-Life, Counter-Strike, Left4Dead and Portal released Steam as a method of centralizing update releases for their published games to make the process easier for people that played their games. When Valve began to sell third-party games through Steam, however, the concept exploded.
Here we are in 2012, and Steam is now a massive PC gaming hub packed with features including massive sales, forums for nearly every game in a catalogue of thousands of titles, a social network system with voice chat and personalized, detailed profiles, achievements, news articles, support, out-of-game item trading…
It sounds pretty overwhelming at first, and considering how many features the platform possesses, being a tad disoriented is normal!
What you're going for, however, is an understanding of the sales and other promotions on the site, critical for you to maximize the value of that shiny new gift card or simply to ensure the lowest possible price for the game or games you're dying to download!
Let's start with the home screen: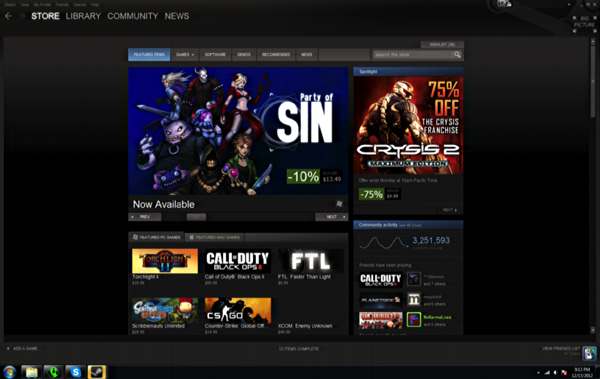 This is what you'll see on the steam store page on an average day.
Scrolling down reveals a daily sale as well as a list of new releases, best sellers, and discounts.
For the past several years, Steam has held a Christmas sale that lasts for anywhere from five to ten days, differing each year. What you need to know, though, is that during each day of the sale,
different games are discounted dynamically.
What do I mean by that? Each day, the featured sales will hog the top of the front page with massive deals ranging from 25% off on brand new releases to 90% off on older ones.
This is where you will see some of the best deals in the entire PC gaming market all year. However, because of the system, you should have a strategy in mind for getting the best deals consistently, enabling you to purchase more for your beloved gamer
– or yourself – for less money. Here are some tips to keep in mind.
1. Once a day's featured sales are over, the games that were on sale will remain on sale, but with less of a discount. If you're considering buying a game that's on a featured sale, you should buy it that day before it becomes more expensive.
2. Conversely, some games will go on featured sale at a later date. If you have your eyes on a title that isn't on featured sale, patience is key! You might be able to pay half the sale price it currently is if you wait.
3. If you're buying for a friend or family member, use Steam's functionality! Ask them what their name is on Steam and add them to your friends list. The store pages for each individual game will tell you which of your friends already own the title, preventing
you from making the unspeakable error of gifting something someone already owns.
All of this is based off of previous sales, and as Steam's track record shows, this year's Christmas sale will be similar, if not entirely identical, in structure.
Depicted is the library page for a single game. As you can see, there's a heckuva lot going on!
Massive functionality is a huge part of what makes Steam such a success.
That said, I hope this helps you shop a little more intelligently!
When not constantly checking Steam for new ways to empty his poor wallet, Zach Comm writes amazing gaming-oriented content for
GameCheetah.com
.